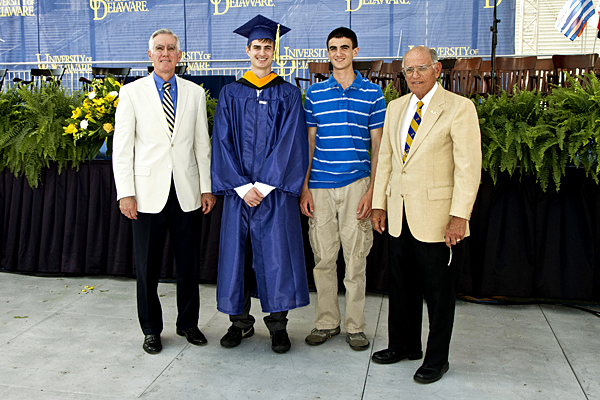 Commencement info
Interesting facts concerning the University's 162nd Commencement
4:37 p.m., May 28, 2011--The University of Delaware held its 162nd Commencement exercises on Saturday morning, May 28, in Delaware Stadium.
Following are interesting facts about the Commencement, including the procession of alumni delegates and the number of degree conferred.
From graduates, faculty
As it neared time for the processional to open the University of Delaware Commencement ceremonies, graduating students and faculty members shared their feelings about what the event means to them.
Doctoral hooding
It was a day of triumph, cheers and collective relief as more than 160 students from 21 nations participated in the University of Delaware's Doctoral Hooding Convocation held Friday morning on The Green.
Alumni delegates
The Commencement ceremony was opened by the procession of alumni delegates, led by the recipients of the Alumni Association's Warner and Taylor Awards, which are presented to the outstanding senior woman and man. The Warner and Taylor recipients are Sarah LaFave and Matthew Watters. Alumni delegates were from the classes of 1950 through 2010, representing the UD alumni around the world, which will number more than 145,000 with the addition of this year's graduates. 
Degrees conferred
Conferred at Commencement were an estimated 4,224 degrees (including education specialists and certificates). This number is estimated since the final figure will not be determined until spring grades are fully recorded and the deans review the grades for all candidates.
About the graduates
Eleven graduates celebrated their birthdays on May 28.
The most popular names among the graduates are Sarah and Matthew.
Graduates are from 46 states, the District of Columbia and Puerto Rico (with the most from Delaware, New Jersey, Pennsylvania, New York and Maryland) and from 16 foreign countries.