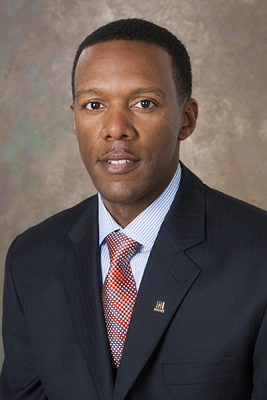 May 5: Blue Hen Poll
Student-run public opinion survey turns in positive results
2:23 p.m., May 4, 2011--A large majority of University of Delaware undergraduates—more than 90 percent—are satisfied with UD and would recommend it to others, according to a new public opinion survey designed and conducted by students.
David C. Wilson, assistant professor of political science and international relations, and his team of students will publicly present the results of the 2011 Blue Hen Poll on Thursday, May 5, at 12:30 p.m., in the Multipurpose Rooms of the Trabant University Center.
From graduates, faculty
As it neared time for the processional to open the University of Delaware Commencement ceremonies, graduating students and faculty members shared their feelings about what the event means to them.
Doctoral hooding
It was a day of triumph, cheers and collective relief as more than 160 students from 21 nations participated in the University of Delaware's Doctoral Hooding Convocation held Friday morning on The Green.
The poll is designed to examine the attitudes and opinions of full-time undergraduate students on the Newark campus. 
A wide range of topics is covered in this year's Blue Hen Poll, including: general satisfaction with UD, Ratemyprofessors.com, Winter Session, making professors' evaluations public, eBooks versus textbooks, fitness habits, student experiences on campus and advisement. The complete list of topics can be found at the Blue Hen Poll website.
According to Wilson, the Blue Hen Poll is an undergraduate research experience for students in his "Public Opinion, Politics and Society" course, in which they are fully immersed in the world of polling. They collaborate with multiple groups on campus to come up with popular topics. They then administer the survey, analyze the data and create a presentation of the results. 
"I just oversee the project and help teach proper research methods," said Wilson. "It is a practical experience. It is one thing for students to learn from a textbook; it is another to have to collect, analyze and report data on their own."
The student research team administered the web-based survey to a random sample of 2,500 UD students in mid-March, and the poll was closed in mid-April. With 1,026 responses, the poll had a 41 percent response rate and an estimated accuracy rate within 3 percent.
Results show that overall there is a high satisfaction with the University. In general, students are satisfied with UD President Patrick Harker's performance and with their relationships with professors. On average, undergraduates also feel that gym facilities and library hours are suitable. 
While there are some areas of dissatisfaction, the overwhelming majority of students reported having a positive experience.
"This is a poll for students by students," Wilson said. "It is an opportunity for people to voice their opinions about UD."
An in-depth explanation of the results will be given at Thursday's event and can also be viewed on the Blue Hen Poll website. The event is free and open to the public. 
Article by Greta Gibboney
Photo by Ambre Alexander