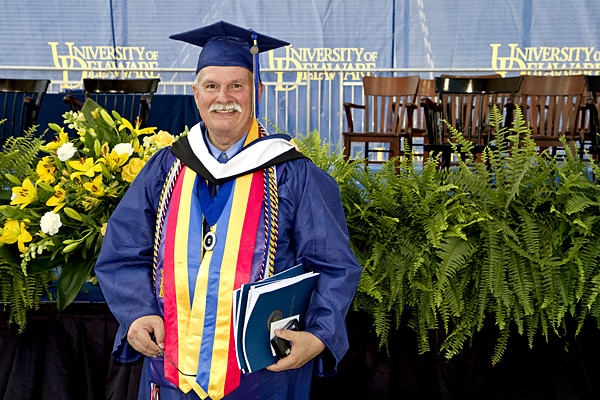 Boomer's global reach
University graduate's influence extends to Romania
4:35 p.m., May 28, 2011--For one member of the Class of 2011, the University of Delaware's tagline "Citizen University" is a particularly apt summary of his undergraduate experience.
Kenneth Adams, 65, of Newark, has traveled to Romania and presented reports there on such pressing issues as discrimination against the Roma (gypsies) and the trafficking of children, and on the Newark campus he has tutored fellow ADA students and helped them with homework and test preparations.
From graduates, faculty
As it neared time for the processional to open the University of Delaware Commencement ceremonies, graduating students and faculty members shared their feelings about what the event means to them.
Doctoral hooding
It was a day of triumph, cheers and collective relief as more than 160 students from 21 nations participated in the University of Delaware's Doctoral Hooding Convocation held Friday morning on The Green.
At Commencement, the self-described Baby Boomer received a bachelor's degree in political science with a minor in women's studies. He has been inducted into the Phi Beta Kappa and Phi Kappa Phi honor societies on campus.
After his sophomore year, Adams was accepted into the elite Dean's Scholar Program, where he designed his own research course of study. At his own expense, he made eight field study trips to Romania, studying its accession into the European Union. He has since reported his findings on such topics as judicial corruption, discrimination against the Roma, the poverty of Transylvania peasants and the trafficking of children to committees of both the EU and Romania. 
Since UD does not offer courses in the Romanian language, he taught himself by taking online classes, as well as language immersion programs in Bucharest and Brasov. His fluency in Romanian enabled him to read official government documents and interview citizens and officials directly. 
His work in this area will continue after graduation. He has been invited to speak in the Transylvania county of Sibiu this summer about his research on healthcare delivery of services for the rural Roma community of Gura Raului. 
In addition to his Dean's Scholar research, Adams has volunteered at two over-crowded, under-staffed orphanages in Brasov County. His contributions were honored during spring break when he received a Friend of Transylvania Hospitality Award for documenting the orphanage conditions and for filing official reports with the County of Brasov, the Romanian Parliament and the European Parliament. He has twice testified before committees of the parliament about the orphanages, as well as about the social, economic and healthcare conditions of rural peasants and Roma women and children. 
At home in Delaware, Adams has been active as well. This spring, he was one of the speakers in the Women's Studies lecture series on "Race, Ethnicity and Culture," discussing "The Peasant and Roma (Gypsy) Women of Transylvania: Will EU Accession and Globalization Eradicate Their Poverty and Improve Their Human Rights?"
Adams, who is battling Parkinson's disease and coronary heart disease, is attuned to the problems faced by persons with disabilities. He himself had to type his University work using just one finger on his left hand. At the Assistive Technology Center in the Morris Library for Americans with Disabilities Act (ADA) students, he has spent countless hours tutoring fellow ADA students with their homework and test preparation. 
Photo by Mark Campbell