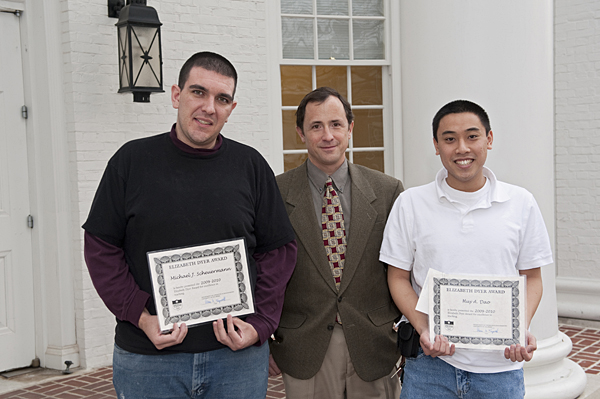 Dyer teaching awards
Graduate teaching assistants honored by Department of Chemistry and Biochemistry
9:24 a.m., March 21, 2011----The University of Delaware's Department of Chemistry and Biochemistry presented its 29th annual Elizabeth Dyer Excellence-in-Teaching Awards to graduate teaching assistants Huy Anh (Mike) Dao and Michael Scheuermann.
The awards, which honor graduate students who have served in exemplary fashion as teaching assistants during the past academic year, were given on March 4 during a departmental graduate recruitment seminar. Each recipient receives a certificate and $250.
National Medal of Science
President Barack Obama recently presented the National Medal of Science to University of Delaware alumnus Rakesh Jain.
Warren Award
Rosalind Johnson, assistant dean for student success in the NUCLEUS Program in UD's College of Arts and Sciences, was presented the John Warren Excellence in Leadership and Service Award during a May 26 ceremony.
Dao received his bachelor's degree from La Salle University and is pursuing a doctorate at UD with Prof. Charles Riordan. He served as a teaching assistant in general chemistry classes during the fall of 2009 and spring of 2010.
"Without Mike, this class would have been much more difficult, and I attribute much of my success in this course to him," a student of Dao's said.
Scheuermann also received his bachelor's degree from La Salle University and is pursuing a doctorate with Associate Prof. Neal Zondlo. He was a teaching assistant in organic chemistry classes during fall 2009 and spring 2010. A student said Scheuermann "was by far the best TA I have had since I have been at UD. He was always willing to help out."
The Dyer Award honors the memory of Prof. Elizabeth Dyer, a member of the chemistry and biochemistry department faculty from 1933-1971.
Article by Kayla Codina
Photo by Evan Krape