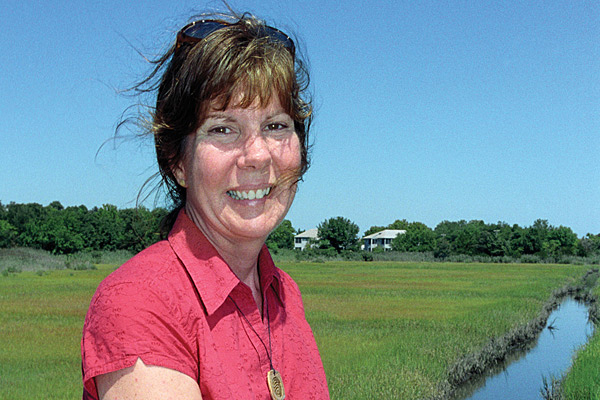 Genome of harmful algal bloom species sequenced
Delaware's Coyne member of research team
2:02 p.m., March 14, 2011----Even in the microscopic world of phytoplankton, Aureococcus anophagefferens is small. But this algal species is mighty. It causes brown tides, blooms of algae that have decimated fisheries and destroyed seagrass beds.
Scientists wanting to understand the proliferation of Aureococcus sequenced its genome -- the first ever sequencing of a harmful algal bloom (HAB) species -- and found that a specialized gene set allows it to dominate other marine phytoplankton and thrive in ecosystems affected by human activity. The finding could help explain global increases in HABs of this species over the past few decades.
Chronic wounds
UD's Millicent Sullivan and Kristi Kiick have received a $1.4 million grant from the National Institutes of Health for research that could provide a new approach to the treatment of chronic wounds.
Prof. Heck's legacy
The American Chemical Society is highlighting the legacy of the late Nobel laureate Richard Heck, the Willis F. Harrington Professor Emeritus of Chemistry at the University of Delaware with a digital tribute on its publications website.
The discovery was reported in the Feb. 21 online issue of the Proceedings of the National Academy of Sciences of the United States of America. Christopher Gobler of Stony Brook University's School of Marine and Atmospheric Sciences led the project in collaboration with a team of scientists from 11 institutions that included the University of Delaware.
The study, which compared Aureococcus with six co-occurring species, found that the relatively small Aureococcus has a comparatively large genome with more copies of genes for some proteins or enzymes that it needs to dominate. For example, it has more genes involved in light harvesting, which allows it to bloom in turbid or cloudy waters, often made that way by erosion due to human activities.
"Aureococcus can grow very well under low light so it's possible they're using all these different genes that they have in order to maximize the amount of light that they can utilize," explained Kathryn Coyne, assistant professor of marine biosciences in UD's College of Earth, Ocean, and Environment and project collaborator.
The group also found that the algae might be predisposed to using organic nitrogen as a nitrogen source to grow and to function. Heightened levels of organic nitrogen are often found in waters affected by human activity, for example from excess fertilizer use. Aureococcus has multiple copies of genes that allow it to metabolize organic nitrogen and only one copy of the gene for inorganic nitrogen assimilation. Many of the co-existing species, on the other hand, have the opposite -- multiple copes of genes for metabolizing inorganic nitrogen and fewer genes for metabolizing organic nitrogen.
"That follows along with what we see, that we find Aureococcus many times when nitrate, the inorganic form of nitrogen, is very low, and urea or other organic forms of nitrogen are high," she said.
The study was based on samples taken from New York's Quantuck Bay. Brown tides, which had not been observed before 1985, regularly occur along the U.S. east coast and off of South Africa. While Coyne said that the species does exist in Delaware's Inland Bays, it doesn't bloom densely like it does in other places.
"If we start seeing more input of organic nitrogen, due to agricultural activity for example, then we may start seeing the dense blooms," she said. "Now we have a better idea of why these blooms are forming so it gives us one more piece of information needed to prevent or mitigate these blooms."
The research was funded by New York Sea Grant, U.S. Department of Energy, National Oceanic and Atmospheric Administration, National Institutes of Health, and National Science Foundation.
Article by Elizabeth Boyle