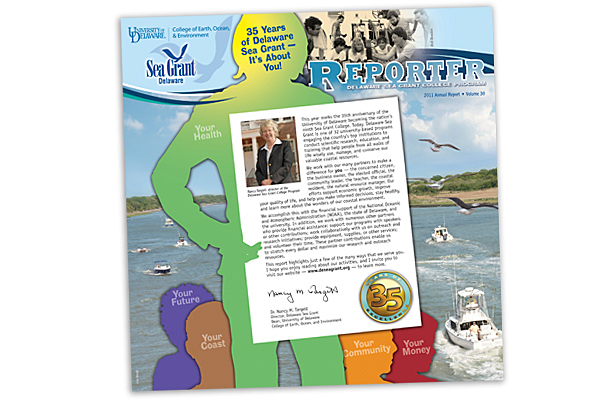 Sea Grant newsletter
Annual report highlights ways Sea Grant serves Delawareans
4:06 p.m., June 15, 2011--Over the 35 years that the University of Delaware has served as a Sea Grant college, its scientists and outreach specialists have helped people from all walks of life wisely use, manage and conserve the state's valuable coastal resources.
Learn about Delaware Sea Grant's latest efforts in the new issue of its Reporter newsletter. The publication's 2011 theme, "It's About You," puts the spotlight on the many ways that the organization serves the state and nation. Projects profiled include those that help improve water quality, benefit small businesses, and boost knowledge about wind energy.
From graduates, faculty
As it neared time for the processional to open the University of Delaware Commencement ceremonies, graduating students and faculty members shared their feelings about what the event means to them.
Doctoral hooding
It was a day of triumph, cheers and collective relief as more than 160 students from 21 nations participated in the University of Delaware's Doctoral Hooding Convocation held Friday morning on The Green.
Published annually by Delaware Sea Grant and the University of Delaware's College of Earth, Ocean, and Environment, Reporter encourages its readers to become informed, get involved and stay connected through the various programs of the college and Sea Grant. 
The annual report is available online and will be distributed to the public as an insert in the Wilmington News Journal on Sunday, June 19. 
Download Reporter today to learn more and to complete the readership survey. Readers who submit the survey by Aug. 5 will be entered in a drawing for Delaware Sea Grant's Coastal Prize Package, which includes a stay at UD's Virden Center in Lewes, Del., a Coast Day Crab Cake Cookbook, and much more.
Article by Elizabeth Boyle