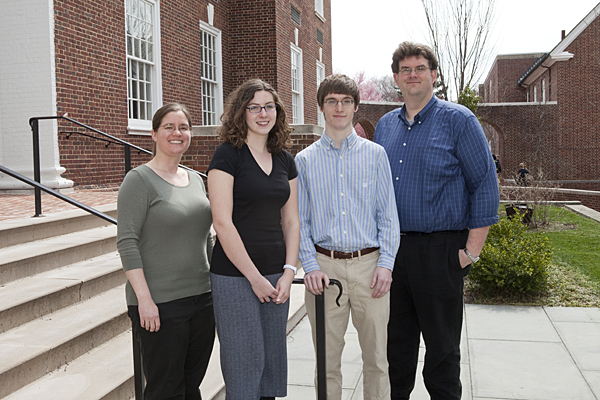 Research fellowships
Chemistry students win national fellowships for summer research
3:53 p.m., June 9, 2011--University of Delaware undergraduate students Derek Ahneman and Hilary Kerchner have won nationally competitive fellowships to support their summer research in the Department of Chemistry and Biochemistry.
Ahneman, a rising senior chemistry major in the Honors Program from Stamford, Conn., received the American Chemical Society's Division of Organic Chemistry Summer Undergraduate Research Fellowship. Under the guidance of his mentor, Don Watson, assistant professor of chemistry and biochemistry, Ahneman will pursue research on developing new methods to prepare organosilicon compounds using transition-metal catalysis. 
Chronic wounds
UD's Millicent Sullivan and Kristi Kiick have received a $1.4 million grant from the National Institutes of Health for research that could provide a new approach to the treatment of chronic wounds.
Prof. Heck's legacy
The American Chemical Society is highlighting the legacy of the late Nobel laureate Richard Heck, the Willis F. Harrington Professor Emeritus of Chemistry at the University of Delaware with a digital tribute on its publications website.
Ahneman is one of 16 undergraduates from across the United States to receive the $5,000 competitive fellowship, which is awarded on the merits of the student's research proposal, academic records, faculty recommendations and passion for laboratory science. The fellowship also enables recipients to visit an industrial campus in the fall for a dinner, scientific talks and a poster session, where the summer research results are to be presented.
Kerchner, a rising junior chemistry major in the Honors Program from East Petersburg, Pa., won one of only six GlaxoSmithKline Summer Research Fellowships, which provides $5,000 to support 10 weeks of research in the laboratory of her mentor, Mary Watson, assistant professor of chemistry and biochemistry. Kerchner is investigating new ways to prepare chiral cyclic ethers, a class of molecules containing rings of carbon and oxygen atoms, which may exhibit useful biological activity. 
A leading research-based pharmaceutical and health care company, GlaxoSmithKline is based in the United Kingdom and has offices in over 100 countries and major research centers in the United Kingdom, United States, Belgium and China. The company began the fellowship program to encourage young scientists to pursue careers in chemistry. 
Article by Tracey Bryant
Photo by Ambre Alexander