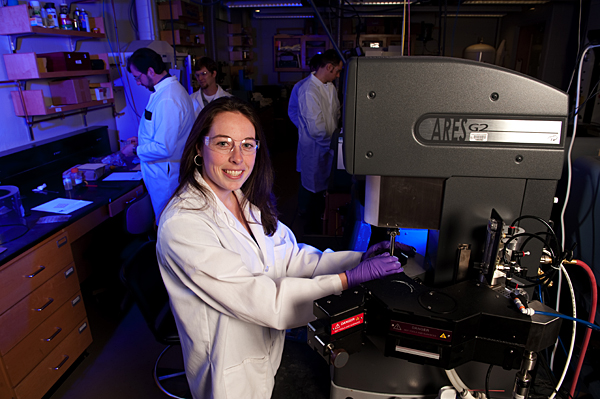 Space suit safety
NASA Fellowship opens doors for chemical engineering student's research
11:46 a.m., June 9, 2011--Astronauts are exposed to many dangers in space, particularly debris encountered while working outside the aircraft. 
Micrometeoroid orbital debris (MMOD) are sub-centimeter sized particles that can travel up to 19 kilometers per second and have the potential to penetrate space suits, placing astronauts at risk and sometimes forcing them to abort their mission.
Chronic wounds
UD's Millicent Sullivan and Kristi Kiick have received a $1.4 million grant from the National Institutes of Health for research that could provide a new approach to the treatment of chronic wounds.
Prof. Heck's legacy
The American Chemical Society is highlighting the legacy of the late Nobel laureate Richard Heck, the Willis F. Harrington Professor Emeritus of Chemistry at the University of Delaware with a digital tribute on its publications website.
Kate Gurnon, a doctoral student in the Department of Chemical Engineering at the University of Delaware, will spend the next year studying materials that show promise to improve MMOD resistance in the next generation space suits as a NASA Delaware Space Grant Fellow. 
The one-year, $26,000 grant will fund Gurnon's research on Shear Thickening Fluids (STFs), a novel nanotechnology with the potential to make nanoparticles in a carrier fluid become stiff and dissipate energy, creating a protective layer on select materials. When incorporated into ballistic textiles, such as Kevlar, STF nanocomposites demonstrate increased ballistic protection and puncture resistance.
Gurnon is advised by Norman J. Wagner, Alvin B. and Julia O. Stiles Professor of Chemical Engineering and department chair, and John W. (Jack) Gillespie, Jr., Donald C. Phillips Professor and director of UD's Center for Composite Materials. Her research focuses on a new approach to dynamic materials testing, Large Amplitude Oscillatory Shear (LAOS), which will enable her to develop rheological equations that describe the stress state of STFs under dynamic loading. 
"Nanocomposite material performance research is a complicated, yet crucial element in engineering STFs for spacesuit applications," explains Wagner. "Kate must consider not only impact loads and deformation fields, but also how STF composition and microstructure will perform in space."
If successful, her work could lead to more durable, penetration resistant materials for space suits. Gurnon says she hopes the fellowship will also help her become a scientific leader in nanomaterial design and applications, and a role model for future female engineers. 
"By disseminating knowledge of the potential advantages of STF technology to a broad audience, I have the opportunity to influence other young women, like myself, to pursue a career in science and technology," she says. 
Gurnon is a member of Tau Beta Pi, the national engineering honors society. 
The University of Delaware is a Land Grant, Sea Grant and Space Grant institution. Grants are offered to each of these distinct research areas to foster the growth of information by promoting education and providing funds for researchers. 
Article by Annie Marshall
Photo by Evan Krape