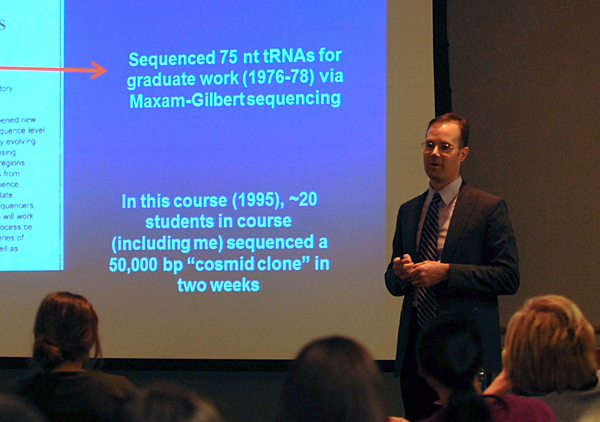 A splendid idea
UD team finalist in 2011 Illumina Data Excellence Award Challenge
3:28 p.m., June 14, 2011--A team from the University of Delaware College of Agriculture and Natural Resources (CANR) and Delaware Biotechnology Institute (DBI) has been selected as a finalist in the 2011 Illumina Data Excellence Award (iDEA) Challenge, taking place June 14-15 in San Diego. The team was selected for a project that focuses on developing user-friendly tools for the processing, analysis and visualization of DNA and RNA sequence data.
The iDEA Challenge is designed to inspire the scientific community to develop new and creative visualization and data analysis techniques. Hosted by Illumina, a San Diego-based company with technologies used for the study of genetic variation and function, the program is interested in empowering and accelerating the analysis, visualization and interpretation of data being generated by Illumina technologies. 
'Resilience Engineering'
The University of Delaware's Nii Attoh-Okine recently published a new book with Cambridge University Press, "Resilience Engineering: Models and Analysis."
Reviresco June run
UD ROTC cadets will run from New York City to Miami this month to raise awareness about veterans' affairs.
The project on which researchers from UD and DBI have been working dates back nearly 10 years and, during that time, more than 20 laboratory members have contributed in various ways to the development and improvement of the software, whose database and web tools were arguably the first visualization system and database specifically for next generation sequence data.
Blake Meyers, the Edward F. and Elizabeth Goodman Rosenberg Professor of Plant and Soil Sciences and chair of the Department of Plant and Soil Sciences, has been working on the project since the outset and said that though the team did not set out to work on the project specifically to enter it in the iDEA Challenge, the contest has helped them to improve their software. 
"We have been working on cleaning up and organizing our software code to make it more streamlined, professional, and universally applicable -- that is, to make it useful in many other organisms other than those which we study -- thus this has been a useful and encouraging project for those other efforts," Meyers said.
The UD team has developed a series of websites based on a common set of scripts and tools, specialized for different species' genomes. The websites enable users to analyze, visualize and download various types of Illumina data, and are built on a common set of web interfaces equipped with user-customizable graphical and analytical tools that allow the user to retrieve and analyze the data. 
Speaking to biologists who have very complex datasets, Meyers said he has founded that they generally "emphasize the importance of user-friendliness to methods for interacting with their data, and in my opinion, this is something that we have really developed well. Although ten years of development has meant that our website and web-based tools are quite complex, for the biologist that takes the time to learn the power of our options, there are many ways to interpret their data." 
The UD websites have received thousands of hits per day from users all over the globe and the sites and their informatics tools have been integral to numerous manuscripts that have been published in journals such as Science, Nature, Nature Genetics, Nature Biotechnology, PNAS, The Plant Cell, Nucleic Acids Research, and others. 
Meyers said that as a biologist, one of the things he enjoys most about the project is "making new insights and discoveries into biological processes. But related to this is the pleasure of seeing the broad utility of the tools we've developed, and knowing the deeper understanding of the data that comes from visualization that allows the user to make the discoveries."
Those currently involved with the project include: 
Mayumi Nakano, a staff research associate in the lab, who has done nearly all the programming to develop the visualization tools and web interface.
Kevin McCormick, a doctoral student in the Department of Computer and Information Sciences (CIS), who has led the development of the primary database structure and database loading scripts.
Caghan Demirci, a CIS doctoral student, who has been working on streamlining and standardizing the systems.
Feray Demirci, a CIS doctoral student, who has worked on application development for specialized analyses.
Recent but former members of the lab who worked on the project include:
Gayathri Mahalingam, a CIS doctoral student, who has worked on parts of the database that stores information on DNA methylation.
Guna Gurazada, a former CIS master's student who now works at DuPont, and who was involved in many aspects of the data handling pipeline. 
The UD team attending the iDEA Challenge includes both Caghan and Feray Demirci and Nakano, and they will present from 10:30-11 a.m., Wednesday, June 15. 
Article by Adam Thomas