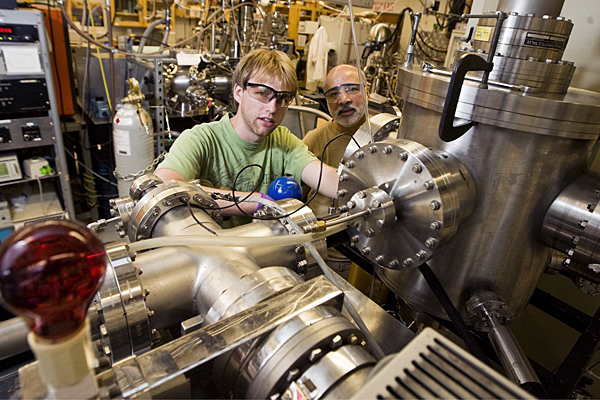 Fulbright Scholar
Materials science professor to conduct research, teach in Azerbaijan
2:05 p.m., June 21, 2011--The U.S. Department of State and the J. William Fulbright Foreign Scholarship Board recently announced that University of Delaware Professor S. Ismat Shah has received a 2011-12 Fulbright Scholar grant to conduct research and lecture at Baku State University in the Republic of Azerbaijan.
Azerbaijan is an Eastern European country situated on the Caspian Sea, adjacent to politically embroiled countries including Armenia, Georgia, Iran and Turkey.
Fulbright awards
Three University of Delaware students and an alumna have received word this spring that they will travel abroad as part of the newest class of Fulbright Student Program award winners.
Peace Corps plans
Two University of Delaware students, John McCarron and Bridgette Spritz, have been selected as Peace Corps volunteers and will serve in Ghana and Rwanda.
"Given the political state of international affairs at the moment, it is highly commendable that Professor Shah is helping to improve the quality of our interactions between the U.S. and Eastern Europe," said Dave Martin, Karl W. and Renate Böer Professor and chair of the Department of Materials Science and Engineering at UD. "We are particularly proud that he is helping the University, and the materials science department in particular, to be a beacon of hope in this volatile part of the world."
Shah's research focuses on the synthesis and characterization of nanoscale materials, with a particular focus on energy applications. His expertise in thin-film photovoltaics, or solar cells made from plastics, is of special interest to scientists in Baku State University's Nano Center because solar power is considered an untapped resource in Eastern Europe, a region that receives abundant sunshine throughout much of the year.
"Everyone is aware of the global energy problem, but some of the solutions we have developed in the U.S. may also be useful in these countries," noted Shah. "I fully expect my time in Azerbaijan will result in collaborative research, joint papers and successful future grant proposals."
In addition to direct research with his host institution colleagues, Shah will advise graduate students and teach courses on thin film and nanomaterials processes, and the ethics and social implications of nanoscale materials.
He is also working with the U.S. Embassy in Azerbaijan to coordinate community speaking engagements with local high school and college students, and plans to lecture at universities in Georgia and Armenia.
"Fulbrighters are considered ambassadors for everything from social and scientific issues to culture. It is an exciting opportunity," Shah said.
Before returning to the U.S., Shah will establish an organic solar cell research laboratory at a university in Pakistan, in cooperation Salamat Ali, through a previously funded grant from the State Department. He also plans to spend two months in Turkey working alongside former students who are now professors.
About Ismat Shah
Syed Ismat Shah is a professor with joint appointments in the Department of Materials Science and Engineering and the Department of Physics and Astronomy. He joined UD in 1999 after 12 years as a senior staff scientist with DuPont. He earned his doctorate in materials science and engineering at the University of Illinois at Urbana Champaign in 1986.
Highly regarded among his peers and by his students, Shah received UD's highest teaching award, the Excellence in Teaching Award, in 2011. He was similarly honored by the College of Engineering in 2007. In addition to his regular teaching responsibilities, Shah has taught at universities across the globe in Germany, Italy, Greece, Turkey, Spain, France and Taiwan.
About the Fulbright Scholars program
The Fulbright Scholars program is the flagship international exchange program administered by the U.S. Department of State. The program enables 800 U.S. faculty and professionals to lecture and conduct research abroad each year. Awards are based on academic or professional achievement and leadership potential. More than 150 countries currently participate in the Fulbright Program.
UD ranks among the nation's top tier of Fulbright Scholars producers, according to a 2010 report by the Institute of International Education (IIE) published in a special Fulbright section in the Chronicle of Higher Education.
Article by Karen B. Roberts
Photo by Ambre Alexander