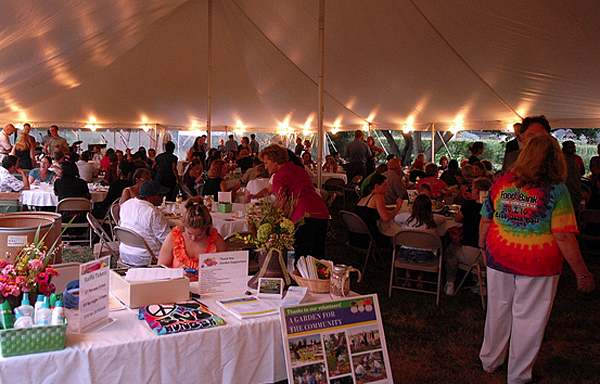 Aug. 11: Evening in the Garden
CANR, Food Bank of Delaware will hold Evening in the Garden benefit
11:41 a.m., June 24, 2011--The University of Delaware's College of Agriculture and Natural Resources (CANR) and the Food Bank of Delaware will hold an Evening in the Garden from 6 to 8 p.m., Thursday, Aug. 11, at UD's Garden for the Community, which is located off South College Avenue near the Girl Scouts building.
All proceeds from the event will help the Food Bank in its hunger relief efforts.
June 5: Blue Hen 5K
University of Delaware graduates planning to attend Alumni Weekend are encouraged to register for the annual Blue Hen 5K walk and run, which will be held Sunday morning, June 5.
June 6-9: Food and culture series
The 20th annual June Lecture Series at the Osher Lifelong Learning Institute at UD in Wilmington will be held June 6-9. Titled 'June a la Carte,' this year's program focuses on great political documents, feminism, world politics and a Newark cuisine sampler.
The evening will feature wine and beer tastings from local wineries and breweries including Paradocx Winery, Victory Brewing Company and Dogfish Head Craft Brewery. In addition, the evening's menu includes garden-fresh foods straight from the Garden for the Community. The Food Bank of Delaware's culinary team will serve Gulf shrimp and cucumber soup, flame-broiled vegetable terrine, juice watermelon and Grecian feta salad, summer sweet corn and Chesapeake crab salad, Indian eggplant parmesan rolls, slow-roasted chimichurri chicken with fried okra, fresh triple berry trifle and more.

Entertainment for the evening will be provided by Royal Palm Steel Band.

"We're proud to be able to continue our partnership with the University of Delaware's College of Agriculture and Natural Resources," said Food Bank of Delaware President and CEO Patricia Beebe. "Last year close to 170 guests had a wonderful time touring the garden, tasting local wines and enjoying a fresh menu straight from the garden. We hope that this year more members from the community are able to join us to help raise money for Delawareans who are struggling to put meals on the table."

"The Garden for the Community represents the core mission of the College of Agriculture and Natural Resources -- helping to feed the world in a sustainable manner," said Tom Sims, deputy dean of CANR and the T.A. Baker Professor of Soil and Environmental Chemistry. "During 2009 and 2010, the Garden for the Community produced more than six tons of fresh produce. The goal is to have an even more bountiful harvest in 2011."
The Garden for the Community project is a partnership between the Food Bank of Delaware and the CANR faculty and staff, undergraduate students and graduate students. Volunteers from the University and surrounding community help plant and maintain the garden.
Tickets for the event are $40 per person or $15 for students, who must show a student ID. The price includes dinner, wine, beer and entertainment.
Those who attend are encouraged to bring a bag of non-perishable goods for the Food Bank of Delaware. 
To attend, RSVP by Aug. 4 to Kim Kostes at 302-444-8074 or kkostes@fbd.org. Online registration is available at the Food Bank of Delaware website.
Photo by Danielle Quigley