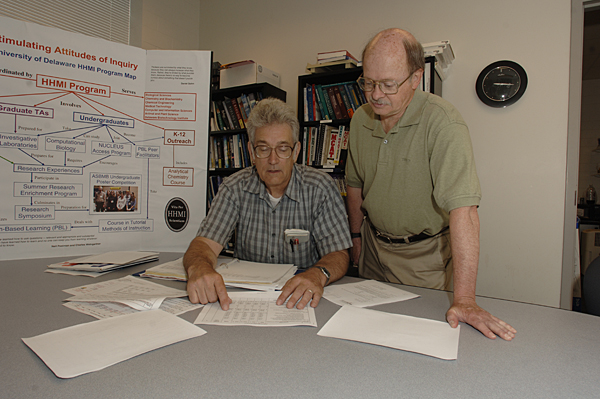 Talking science
Biology, chemistry faculty share connections with students
11:35 a.m., June 7, 2011--Biologists and chemists on the UD faculty have started doing something that's surprisingly rare for the two disciplines, says Hal White—talking to each other.
"Faculty from one department may know some from the other department, but we haven't really talked," said White, professor of chemistry and biochemistry. "And in particular, we haven't talked enough about what we teach and how we teach."
From graduates, faculty
As it neared time for the processional to open the University of Delaware Commencement ceremonies, graduating students and faculty members shared their feelings about what the event means to them.
Doctoral hooding
It was a day of triumph, cheers and collective relief as more than 160 students from 21 nations participated in the University of Delaware's Doctoral Hooding Convocation held Friday morning on The Green.
White, who also is director of UD's Howard Hughes Medical Institute (HHMI) Undergraduate Science Education Program, thought the lack of interaction was a problem that should be addressed. For example:
The four-year HHMI grant awarded in September, the fifth time UD has received such a grant for innovative programs to strengthen undergraduate and precollege science education, includes support for efforts to make connections between introductory chemistry and biology classes for life-science majors. 
As the study of biology has become increasingly focused on the molecular level, its connection to chemistry has grown stronger, even for first-year students.
Introductory biology classes often begin with chemistry concepts—"the chemistry of life," White says, noting that many students are first introduced to college-level chemistry in a biology class.
As many as half the students in an introductory chemistry or biology class for science majors are typically taking both courses in the same semester.
Often, more than a third of the students in first-year chemistry classes for science majors are not chemistry majors but are in the life sciences.
"We have such a large population of chemistry and biology students that overlap that it seemed important for us to get to know each other and learn our perspectives on teaching introductory classes," said Jennifer Nauen, assistant professor of biological sciences. "We want to work together, if not to integrate the curriculum, at least to align it in a way that hasn't been done before."
Nauen is one of about 15 faculty members from the departments of Biological Sciences and Chemistry and Biochemistry who have been meeting once a month for informal discussions. Some have also sat in on each other's classes to observe how similar concepts are being taught in the two disciplines and how students are engaged in the learning process.
Many say it's been eye-opening to hear how two different faculty members present the same concept using different language and from a different perspective. They say the experience has shown them why students might not immediately understand the connections between chemistry and biology or—worse—might become confused because of the variations in the way related material is discussed.
"We want our students to realize that classes are connected across disciplines," said Mary Beth Kramer, instructor in chemistry and biochemistry, who has observed some of Nauen's classes. "Sitting in on those classes was a big plus for my own teaching. It helped me understand why my students were asking some of the questions they raised in my classes, and it showed me the different language we use in presenting material."
This summer will be especially busy for a number of the faculty members involved in the cross-disciplinary effort. Several are attending workshops and conferences designed to improve teaching through problem-based learning and other student-focused classroom activities. Those programs include UD's annual Institute for Transforming Undergraduate Education, to be held from June 15-17, and focusing this year on STEM (science, technology, engineering and mathematics) education.
In the fall, the chemistry-biology group hopes to begin implementing some new and interdisciplinary approaches in their undergraduate classes, and by 2013, White said, even bigger changes are in store when the Interdisciplinary Science and Engineering Laboratory (ISE Lab) is slated to be complete.
"We want to develop more and more experiences for students that integrate disciplines," White said. "We're starting to do that now, but there's no question that the way the ISE-Lab is being designed will encourage and facilitate that process even more."
Article by Ann Manser