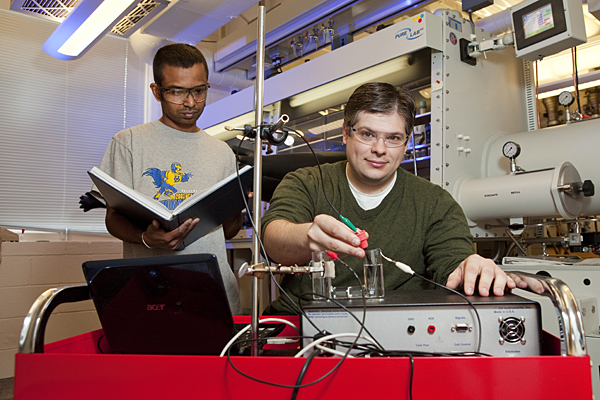 UDRF grants announced
11 research projects awarded
3:37 p.m., June 10, 2011--The recipients of the University of Delaware Research Foundation's latest round of grants will shed new light on a variety of topics relating to the environment, energy and health, from developing new techniques for assessing the integrity of aging bridges, to sorting out the causes of rapid weight gain in infants -- a risk factor for adulthood obesity.
Chartered in 1955 as a private corporation to support University research, UDRF annually awards funding to early-career faculty for high-priority science and engineering projects. Eleven grants of $35,000 each were awarded in the latest competition. The foundation provides $25,000 toward each project, which is matched by $5,000 each from the provost and the awardee's college dean.
Chronic wounds
UD's Millicent Sullivan and Kristi Kiick have received a $1.4 million grant from the National Institutes of Health for research that could provide a new approach to the treatment of chronic wounds.
Prof. Heck's legacy
The American Chemical Society is highlighting the legacy of the late Nobel laureate Richard Heck, the Willis F. Harrington Professor Emeritus of Chemistry at the University of Delaware with a digital tribute on its publications website.
The grant program plays a valuable role in enhancing the professional development of the recipients, according to Mark Barteau, senior vice provost for research and strategic initiatives at UD. The Research Office provides assistance to the UDRF Research Committee, made up of scientists and engineers from outside the University, which oversees the proposal review and selection process. 
"UDRF awards funding to investigators early in their faculty careers based on the originality and importance of the research and the potential for follow-on funding by external agencies," Barteau said. "By seeding proof-of-concept research, these grants have the potential to put the recipients on the path to winning larger proposals to support their work." 
The following projects were funded: 
Labeling the Party Wallflowers: Use of Laser Dissection Microscopy to Interrogate Low-Activity Estuarine Microorganisms. Jennifer Biddle, assistant professor of marine biosciences, will develop genetic probes for the Miscellaneous Crenarchaeotal Group (MCG) and other low-activity microbes in marine sediments. Typically, very active cells, the "movers and shakers," are well labeled because the target ribosomal RNA is abundant. Using laser-dissection microscopy to target and select low-activity cells, Biddle will develop probes for the "wallflowers."
Novel Nanoporous Cathode Material for Lithium-ion Batteries. Feng Jiao, an assistant professor of chemical engineering, is working to develop novel cathode materials to boost the energy storage of lithium-ion batteries, which are used in items ranging from laptops to electric cars. He is exploring a new synthetic method, ionothermal synthesis, for preparing lithium manganese phosphates with 3D nanoporous structures. The material's porosity would enable the removal and re-insertion of lithium ions from/into the 3D channels at high current density.
Creating Efficient and Modern Software Tools for Plant Breeders in Developing Countries. Many developing countries lack the proper software and statistical expertise needed for modern plant breeding. Jong-Soo Lee, assistant professor of food and resource economics, will evaluate plant breeding software and lay the statistical groundwork for an "automated analysis methodology." This is part of a team effort at UD to develop an open-source software package to assist plant breeders of various skill levels in the development of superior crop cultivars.
Electrocatalytic Reduction of Carbon Dioxide to Chemical Fuels. Concerns over greenhouse gas emissions and climate change are propelling research forward on renewable energy. Joel Rosenthal, assistant professor of chemistry and biochemistry, will explore the development of nickel and palladium electrocatalysts that will freely give away electrons when they react with carbon dioxide, thus chemically reducing the greenhouse gas into energy-rich carbon monoxide or methanol fuels. 
DNA Methylation Changes Associated with Early-Life Experiences. Stress during early development can profoundly affect the brain, imparting either risk for or resilience to mental disorders. Tania Roth, assistant professor of psychology, will analyze patterns of DNA methylation -- the addition of a methyl group (three hydrogen atoms bonded to a carbon atom) -- in the brain, which is critical to cell development and gene expression. The work will support future studies of whether the brain and behavior can be "reprogrammed" after early-life stress.
Quantitative Acoustic Emission Monitoring for Reinforced Concrete Bridges. Non-destructive testing techniques such as acoustic emission (AE) have become increasingly important for assessing the integrity of aging bridges. Thomas Schumacher, assistant professor of civil and environmental engineering, will evaluate the latest quantitative methodologies in seismology for potential incorporation into bridge monitoring systems. A series of lab tests on reinforced concrete bridge beams will be conducted. 
A New Underwater Transmission Technology for Ocean Exploration and Disaster Response. Aijun Song, assistant professor of physical ocean science and engineering, foresees the day when a school of aquabots could be deployed to an underwater disaster like the recent BP oil spill in the Gulf of Mexico to inspect the oil pipes and wirelessly transmit images to a command vessel using acoustic modems. His work focuses on making this vision a reality by developing a completely new all-analog processing system for image transmission in the ocean. 
Proteomic Approach in Identifying Conserved MicroRNA Gene Targets. MicroRNAs are involved in regulating a broad range of biological processes, from development to programmed cell death (apoptosis). Jia Song, assistant professor of biological sciences, will identify miR-1 and miR-31 gene targets that are involved in developmental signaling pathways. The results may shed light on how aberrant miRNA activity might underlie human disorders.
Energy Balance in Infants with 'Rapid' Versus 'Normal' Weight Gain. Infants with rapid weight gain have a higher body mass index and higher percent body fat at six months than normal infants; this remains a risk factor for adulthood obesity. Jillian Trabulsi, assistant professor of behavioral health and nutrition, will test the hypothesis that the energy imbalance (energy intake exceeds requirements) in infants with rapid versus normal weight gain is due to greater energy intake rather than a difference in energy expenditure or loss. 
Efficient Energy and Thermal Management through Application- and Architecture-Specific Optimizations. An assistant professor of electrical and computer engineering, Chengmo Yang will work to "cool" hotspots in processors through the development of power-friendly code compression techniques and compiler-driven techniques capable of physically remapping hot registers before heat gets locally accumulated. 
Tracing Land-Derived Nitrogen into Inland Bays Macroalgae: A Stable Isotopic Assessment. Joanna York, research assistant professor of marine biosciences, will use the signatures of stable isotopes to trace land-derived, groundwater-borne nitrogen and its assimilation by aquatic plants in Delaware's Inland Bays. The results will help guide coastal managers working to minimize algal blooms.