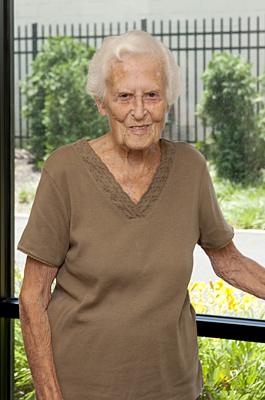 Still working at 90
Engineering's Lucille Wilson enjoys the challenge of work
2:17 p.m., June 17, 2011--Lucille Wilson was born June 10, 1921, just three months after an Act of the Delaware General Assembly created the University of Delaware with two colleges -- Delaware College and the Women's College, and two years before UD launched its first study abroad program to Paris.
An Alabama native, Wilson moved to Delaware in 1956 when her husband joined the DuPont Co. Years later she followed suit, working as a DuPont personnel supervisor for 24 years until her retirement in 1988. She quickly discovered, however, that retirement wasn't for her.
'Resilience Engineering'
The University of Delaware's Nii Attoh-Okine recently published a new book with Cambridge University Press, "Resilience Engineering: Models and Analysis."
Reviresco June run
UD ROTC cadets will run from New York City to Miami this month to raise awareness about veterans' affairs.
"I got bored," says Wilson. "I enjoy the challenge of working."
A friend suggested she apply for part-time work in UD's chemical engineering department, where she remained until joining the College of Engineering Special Business Office in 2010 to help coordinate allocations and expenditures for the college. 
"If we say go back in the archives for engineering, we might as well say go back to Lucille," notes co-worker Kim Correll-Comeau, who has worked with Wilson for over 10 years.
T.W. Fraser Russell, Allan P. Colburn Professor Emeritus of Chemical Engineering, said he remembers Wilson as a "very valuable staff person with a good sense of humor" who he often found "working out at 6 a.m." at the Employee Fitness Center.
Correll-Comeau agrees, calling Wilson a "positive role model."
"On her 85th birthday everyone in the office wore Lucille masks because we are all Lucille wannabes," says Correll-Comeau.
To mark her 90th birthday, co-workers organized a surprise birthday celebration on June 9 complete with cake and gifts. This November, Wilson will achieve two more milestones -- 22 years of service to the University and 46 years in the workforce.
While she credits hard work, exercise and "doing what you enjoy" with helping her remain young at heart, Wilson concedes that money earned at UD has helped fund her love of travel.
With China, Spain, England, France, Scotland, Russia and the South Sea Islands already under her belt, it's anyone's guess where she plans to go next, but one thing is certain -- it won't be to a retirement party.
Article by Karen B. Roberts
Photo by Kathy F. Atkinson