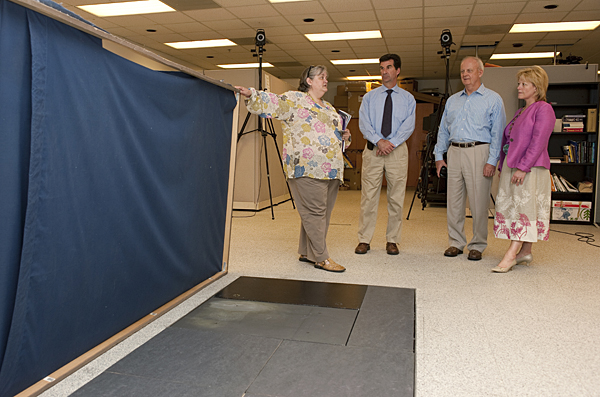 Advancing amputee care
Amputee Coalition of America visits UD to learn about BADER Consortium
3:16 p.m., June 10, 2011--Kendra Calhoun could barely wait to see what the winner would do.  
"I called all of the groups in the running before the grant was even announced," she said.  
Chronic wounds
UD's Millicent Sullivan and Kristi Kiick have received a $1.4 million grant from the National Institutes of Health for research that could provide a new approach to the treatment of chronic wounds.
Prof. Heck's legacy
The American Chemical Society is highlighting the legacy of the late Nobel laureate Richard Heck, the Willis F. Harrington Professor Emeritus of Chemistry at the University of Delaware with a digital tribute on its publications website.
Calhoun heads the Amputee Coalition of America, a nonprofit organization dedicated to helping the 2 million Americans who have lost a limb. The grant that captivated her was awarded by the U.S. Department of Defense -- $19.5 million over five years for orthopedic rehabilitation care to help soldiers with musculoskeletal injuries function in everyday life. It went to UD's newly established BADER (Bridging Advanced Developments for Exceptional Rehabilitation) Consortium.   
On Thursday, Calhoun and a colleague visited UD to observe the research already under way on campus and hear about upcoming BADER Consortium projects nationwide.
Prof. Steven Stanhope, the developer of the BADER Consortium, along with several faculty members led the tour, through labs within the departments of physical therapy, mechanical engineering, materials science and engineering, kinesiology and applied physiology, as well as UD's as-yet-undeveloped Science and Technology campus.
"I hope they walk away with the concept that we have unique capabilities here," said Stanhope, professor of kinesiology and applied physiology.
Calhoun said she liked what she saw, calling the concept behind the consortium "very visionary."
Stanhope said he hopes the meeting is the start of something more. "Quite frankly we are looking to partner with them," he said.  
Calhoun arranged the encounter with a similar thought in mind. She noted that, in her experience, a team approach to amputees' care is always the gold standard. She said combining patient care with BADER Consortium research and resources "has potential magic in it." 
About the Amputee Coalition of America 
The Amputee Coalition, based in Knoxville, Tenn., is a national nonprofit organization whose mission is "to reach out to and empower people affected by limb loss to achieve their full potential through education, support and advocacy, and to promote limb loss prevention." For more information about limb loss, visit the Amputee Coalition website or call 1-888-267-5669.
About the BADER Consortium
Led by the University of Delaware, the BADER Consortium is establishing evidence-based orthopedic rehabilitation for wounded warriors so that each patient can reach his or her optimal level of function.
The BADER Consortium brings together researchers, health professionals and physicians from the University of Delaware; Spaulding/Harvard Rehabilitation Hospital; the University of Texas at Austin; Christiana Care Health System; the Mayo Clinic; the Naval Medical Center in Portsmouth, Va.; the Naval Medical Center in San Diego; San Antonio Military Medical Center; Walter Reed Army Medical Center; C-Motion Inc. in Germantown, Md.; and the University of Michigan.
Funding is provided by the United States Department of Defense's Office of Congressionally Directed Medical Research Program through its Orthopedic Rehabilitation Clinical Consortium. 
Initial clinical rehabilitation studies focus on bone health, balance and stability, optimal walking and training to run.
Article by Andrea Boyle
Photo by Kathy Atkinson