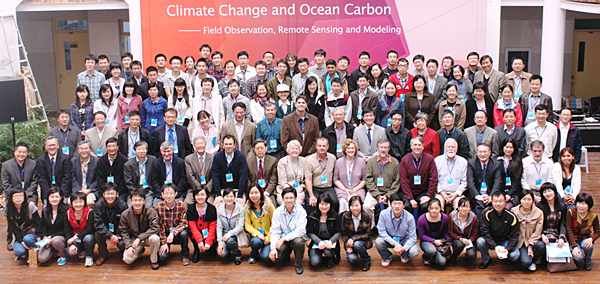 90 years and counting
International workshop helps Xiamen University celebrate 90th anniversary
10:16 a.m., April 20, 2011--You know those close friends you can count on to help recognize important milestones in your life? The University of Delaware and Xiamen University share that kind of relationship. Case in point: When the Chinese institution marked its 90th anniversary earlier this month, UD not only sent a delegation to help celebrate, it co-organized an international ocean science workshop to commemorate the event. 
The workshop, which took place April 3-6 and focused on climate change and carbon in the ocean, brought together 150 scientists from around the world. It was co-sponsored by Xiamen University and the Joint Institute of Coastal Research and Management, a collaborative between Xiamen and UD's College of Earth, Ocean, and Environment (CEOE). See a complete list of sponsors.
Fulbright awards
Three University of Delaware students and an alumna have received word this spring that they will travel abroad as part of the newest class of Fulbright Student Program award winners.
Peace Corps plans
Two University of Delaware students, John McCarron and Bridgette Spritz, have been selected as Peace Corps volunteers and will serve in Ghana and Rwanda.
The conference was the third event in a series of conferences on similar topics that the two universities have held since 2008. It also further developed a growing relationship between the institutions. 
"I am very impressed by the gathering of all these top scientists here," Xiamen University Vice President Ying Zhang said in his address at the workshop.
"Studying linkages between the ocean and climate is one of the most pressing topics for researchers at both CEOE and Xiamen University," CEOE Dean Nancy Targett explained. "We were proud to come together to shape future global research on this topic and celebrate our partner institution's 90th anniversary at the same time."
In addition to Targett, CEOE faculty members Xiao-Hai Yan, George Luther and Matthew Oliver, and graduate students Autumn Kidwell and Zhaoyun Chen participated in the workshop and anniversary celebrations.
A group from the College of Arts and Sciences traveled to China for the wider 90th anniversary events, which included a gala and symphonic concert. Those participants included Dean George Watson and Department of Sociology and Criminal Justice faculty members Ronet Bachman, Joanne Nigg, Aaron Fitchelburg and Ivan Sun.
Also attending was Richard Heck, Willis F. Harrington Professor Emeritus in the Department of Chemistry and Biochemistry and recipient of the 2010 Nobel Prize for Chemistry who will be honored during a special symposium to be held May 26 at UD. Xiamen University President Zhu Chongshi held a special dinner in honor of Nobel Laureate Heck on April 9.
Both universities are quick to continue strengthening their relationship — a Xiamen University delegation plans to visit UD in May.
About the UD faculty involved
Xiao-Hai Yan is Mary A.S. Lighthipe Chair Professor of Oceanography, director of UD's Center for Remote Sensing, and Xiamen University honorary distinguished scholar; George Luther is Maxwell P. and Mildred H. Harrington Professor of Oceanography; Matthew Oliver is assistant professor of oceanography; Ronet Bachman is chair and professor of the Department of Sociology and Criminal Justice; Joanne Nigg is professor in the Department of Sociology and Criminal Justice; and Aaron Fichtelburg and Ivan Sun are associate professors in the Department of Sociology and Criminal Justice.