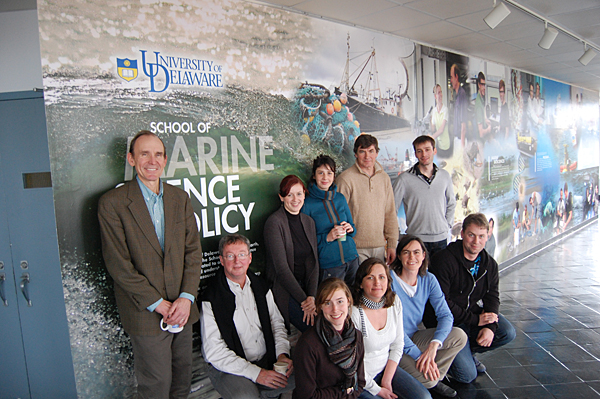 Workshop makes waves
UD, French researchers hold ocean science workshop
10:15 a.m., April 11, 2011--A recent workshop at the University of Delaware's Hugh R. Sharp Campus in Lewes highlighted strong ties between UD and French researchers in ocean sciences. The March 29-31 event brought together about 35 UD faculty and students and eight visiting scientists from the Banyuls-Sur-Mer Oceanological Observatory at Pierre and Marie Curie University, Paris 6.
The event allowed participants to exchange scientific ideas and start new collaborations. It also encouraged future visits by both faculty and students to the partnering programs. Researchers from both institutions presented projects on ocean-related topics such as remote sensing, microbial diversity and salinity. 
Chronic wounds
UD's Millicent Sullivan and Kristi Kiick have received a $1.4 million grant from the National Institutes of Health for research that could provide a new approach to the treatment of chronic wounds.
Prof. Heck's legacy
The American Chemical Society is highlighting the legacy of the late Nobel laureate Richard Heck, the Willis F. Harrington Professor Emeritus of Chemistry at the University of Delaware with a digital tribute on its publications website.
David Kirchman, Maxwell P. and Mildred H. Harrington Professor of Marine Studies at UD, helped initiate the relationship in 2004 when Philippe Lebaron, the observatory's director, spent a yearlong sabbatical at UD's Lewes campus. Several faculty and student exchanges have taken place since, including several monthlong visits to the French lab by Kirchman. 
In 2009, the pair received a French Embassy Partner University Fund (PUF) award, which is designed to foster and fund emerging partnerships and training. The three-year award also aims to create opportunities for American students to study in France, something Kirchman said he thinks the PUF-funded workshop helped encourage.
"One outcome is several people have expressed interest in going over there," he said. "We're working on that."
He said the two programs have complementary initiatives, making the partnership a great fit. For example, both institutions have been measuring various biogeochemical parameters in specific locations off their respective coasts for many years. One potential collaborative goal is to try to compare the two systems more precisely.
Article by Elizabeth Boyle
Photo by Bill Ullman