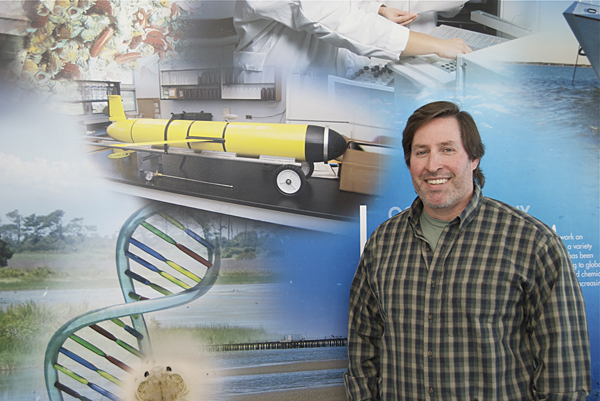 Ask an AstroTweeter
Follow UD employee as he attends space shuttle Endeavour launch
2:46 p.m., April 8, 2011--Will you be watching when the space shuttle Endeavour makes its historic final launch from NASA's Kennedy Space Center? The University of Delaware's Doug White will be. He's been selected from a pool of 4,100 applicants to watch the event in person from about three miles away and to receive back-stage access to NASA astronauts, scientists, and engineers.
White, a research associate at UD's Hugh R. Sharp Campus in Lewes, is one of about 150 @NASA Twitter followers who were selected to take part in the launch event, known as a NASA Tweetup. A Tweetup is an informal meeting of people who use the social messaging tool Twitter, and this one is designed around publicizing and sharing information about the launch.
'Resilience Engineering'
The University of Delaware's Nii Attoh-Okine recently published a new book with Cambridge University Press, "Resilience Engineering: Models and Analysis."
Reviresco June run
UD ROTC cadets will run from New York City to Miami this month to raise awareness about veterans' affairs.
While White can't take anyone with him, he hopes to give others an opportunity to follow him virtually through his blog. School kids are especially encouraged follow along and can submit questions they'd like White to ask during his trip. He plans to use various technologies, including video, to send answers from NASA headquarters through his blog.
You also can follow along on Twitter by following White @cpuguru, or by watching the hashtag associated with the event, #NASATweetup.
The shuttle's mission to the International Space Station is currently set for April 29, though that date is subject to change. As NASA's website notes, "Launching humans into space is a very complex business," and many factors can affect the date of the event.
It's partly that "complex business" that enthralls so many kids at a young age, and White was no exception. Asked if he always loved space research, he replied, "Oh yeah, what kid hasn't?" Luckily for him, the science theme stuck. He spent time in the Navy as a nuclear reactor operator and electronics technician on nuclear submarines before heading to college. He has a bachelor's degree in electronics and electrical engineering technology from Delaware State University.
These days White oversees the Ocean Information Center and collaborates with UD scientists on a range of research projects, including those in oceanography that use maps from satellites to track changes in the ocean. 
"We use NASA satellites all the time to determine sea surface temperature, chlorophyll concentrations," he said. "The space shuttle has been the work horse getting all that stuff up there. It'll be really cool to see it."
Article by Elizabeth Boyle
Photo by Lisa Tossey