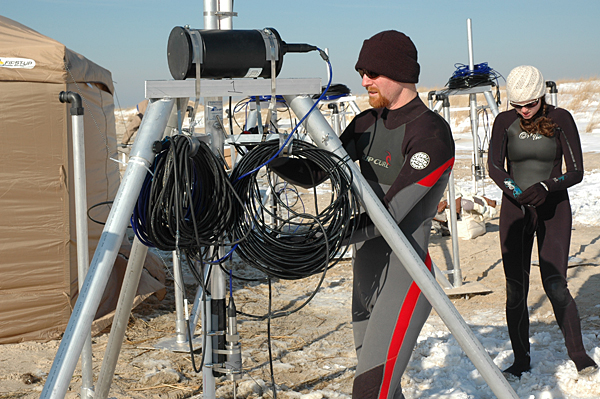 Protecting the world's coastlines
Fulbright scholar to study sand movement in UK
1:18 p.m., April 5, 2011--Jack Puleo studies beaches and what he sees concerns him.
Sea levels are rising. Climate change experts estimate global sea levels will rise nearly five feet over the next century, increasing shoreline erosion and costing the U.S. an estimated $130 million annually on beach nourishment alone.
Fulbright awards
Three University of Delaware students and an alumna have received word this spring that they will travel abroad as part of the newest class of Fulbright Student Program award winners.
Peace Corps plans
Two University of Delaware students, John McCarron and Bridgette Spritz, have been selected as Peace Corps volunteers and will serve in Ghana and Rwanda.
More importantly, Puleo is eager to collect new data to predict how beaches evolve and erode over time. 
Puleo has developed a sensor to capture data about the transport of sediment (in this case beach sands) on critical land-ocean boundaries. He will take his research to a new level this October when he deploys the sensors under natural conditions for the first time – in a landmark field study conducted as part of his recently awarded 2011-2012 Fulbright scholarship at the University of Plymouth in the United Kingdom.
The sensors, which earned Puleo a National Science Foundation Early Career Award in 2009, record the movement of sediment in and just above the sea bed on beaches. Already on his third prototype, Puleo's work has led to new results obtained from scaled, laboratory experiments.
"The Fulbright Scholarship is a logical extension of Professor Puleo's laboratory-based studies," explained Michael J. Chajes, dean of the College of Engineering. "Field work is a critical complement to laboratory studies which often struggle with dynamic scaling issues."
Puleo will work with well-known European colleagues already focused on related field efforts to collect comprehensive beach face sediment transport data. 
Gerd Masselink, deputy head of school (Marine Science) and lead of the Coastal Processes Research Group at University of Plymouth, called the upcoming study a "highly significant and timely" opportunity that will produce "novel science, first-class publications and improved modeling capabilities for predicting shoreline change."
While in England, Puleo also plans to teach a short course for coastal science and engineering students on efficient use of MatLab, a common software package often used for analyzing coastal data sets.
In the 'swash zone'
Most of Puleo's research takes place right at the water's edge – where kids skim board in the summer. 
Scientifically, this is called the "swash zone," the area where waves wash up and down the beach face. Understanding how sand moves here is pivotal to predicting swash zone sediment fluxes and ensuing beach erosion and accretion. 
"The concentration of sand in the bedload layer varies constantly," Puleo explained. Part of the problem is that current prediction models are only validated against sand activity higher in the water column rather than near the sea bed on beaches.  There have been essentially no field studies on the quantity or mechanisms of sand movement in this thin layer. 
Puleo's sensors (only a few millimeters wide and about one millimeter thick) are mounted just above the sand using metal bars buried underground. They measure the concentration profiles of sand directly in the pounding surf– and how the concentration varies as a function of elevation. Measurements in the study will be taken in millimeter increments, 24-hours per day over a seven-day period, while current sensors mounted on pipes record other important factors such as velocity and sea surface elevation.
These measurements, combined with the suspended sediment measurements of his colleagues from University of Plymouth and University of New South Wales in Australia, will provide a "grand master data set" of sand activity in the swash zone where coastal erosion processes are manifested.
"If we can collect better data sets, we can develop more robust parameterizations on sand movement and use numerical modeling to impact future coastal erosion prediction," explained Puleo. 
"It is a real opportunity to record total sediment fluxes in the swash zone and relate these to measurements of the swash flow dynamics," added Masselink.
Puleo is an associate professor in civil and environmental engineering at the University of Delaware's Center for Applied Coastal Research. He holds a joint appointment in the College of Earth, Ocean, and Environment in physical ocean science and engineering. Puleo joined UD in 2004 after earning his doctorate at the University of Florida. He previously was an oceanographer with the Naval Research Laboratory.
About the Fulbright Scholars program
The Fulbright Scholars program is the flagship international exchange program administered by the U.S. Department of State. The program enables 800 U.S. faculty and professionals to lecture and conduct research abroad each year. Awards are based on academic or professional achievement and leadership potential.
UD ranks among the nation's top tier of Fulbright Scholars producers, according to a 2010 report by the Institute of International Education (IIE) published in a special Fulbright section in the Chronicle of Higher Education.
Article by Karen B. Roberts