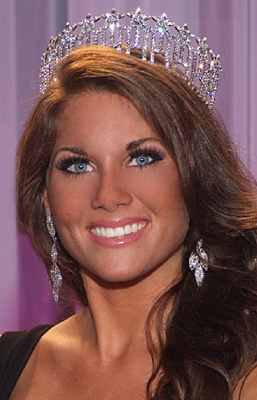 Miss Delaware USA
UD student wins state crown, will compete for national title
2:26 p.m., April 12, 2011--University of Delaware student Katie Hanson, a junior criminal justice major from Newark, is Miss Delaware USA 2011.
In addition to preparing for the Miss USA Pageant to be held June 19 in Las Vegas, the 20-year-old Hanson has a full slate with course work and two jobs.
'Resilience Engineering'
The University of Delaware's Nii Attoh-Okine recently published a new book with Cambridge University Press, "Resilience Engineering: Models and Analysis."
Reviresco June run
UD ROTC cadets will run from New York City to Miami this month to raise awareness about veterans' affairs.
Hanson, who aspires to be a Delaware State Police trooper, was crowned Miss Delaware USA last November at the Sheraton Hotel in Dover.  
"To win the title of Miss Delaware USA 2011 was like an out of body experience," Hanson said. "I never thought that I would ever be that lucky to be chosen to represent the entire state of Delaware, and when I was, a surge of emotions took hold. This was a dream of mine since I was young, and I couldn't fathom the fact that it actually came true."
Currently, Hanson is gearing up for the Miss USA competition, in which she will be judged based on interview, evening gown and swimsuit contests.
Hanson said she counts on a great deal of encouragement from her family, friends and professors. "So many people have been willing to donate their spare time to help and support me through this process," she said.
Historically, Miss Delaware USA has never before won the national title but Hanson hopes to make the breakthrough.
"I possess a strong internal drive to succeed, and what better way to showcase my talents than being on stage in front of an auditorium full of people," she said.
Article by Katie McMullan