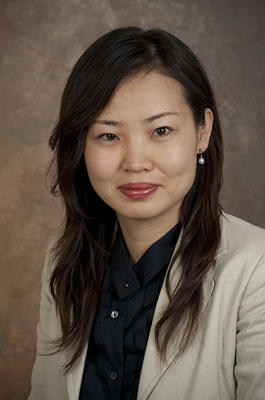 Luxury fashion in China
Professor presents research on luxury brands at international conference
10:35 a.m., April 7, 2011--Chinese consumers are more willing than their American counterparts to buy luxury goods. And yet, explains Jaehee Jung, associate professor in the Department of Fashion and Apparel Studies at the University of Delaware, the demand for online shopping of luxury products in the China — a country in which nearly one out of every three Internet users shops online — is virtually nonexistent.
This paradox was the topic of a presentation Jung delivered earlier this week at the 7th Global Brand Conference of the Academy of Marketing Brand from April 5-7 at the University of Oxford's Saïd Business School.
Chronic wounds
UD's Millicent Sullivan and Kristi Kiick have received a $1.4 million grant from the National Institutes of Health for research that could provide a new approach to the treatment of chronic wounds.
Prof. Heck's legacy
The American Chemical Society is highlighting the legacy of the late Nobel laureate Richard Heck, the Willis F. Harrington Professor Emeritus of Chemistry at the University of Delaware with a digital tribute on its publications website.
To understand the preference for bricks-and-mortar stores over virtual ones, Jung, an expert in the psychology of consumer behavior, looked first to the culture of the land.
"China is a group-oriented and Confucian-based culture where personal interaction has been a long tradition," she said. "For products that consumers have to pay premium prices, the interaction between the customer and the sales associates can be a symbol of social status." 
She added that the Chinese culture also provides an "ideal environment for the top-down relationship" between luxury brands and consumers, as such brands cater to customers who "seek ostentatious consumption" as a reflection of their social status.
Article by Artika Rangan