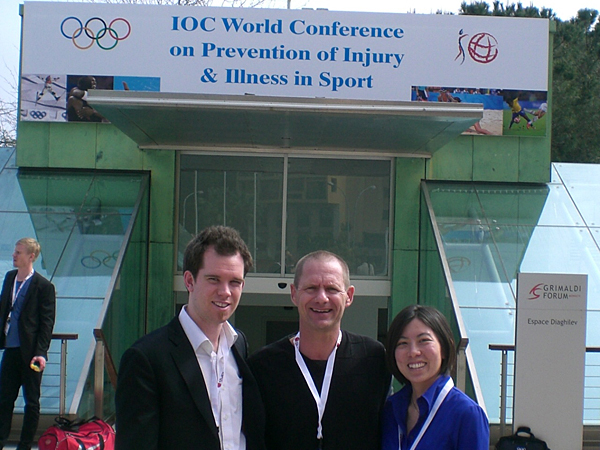 The prince and the professor
Athletic training professor meets Prince of Monaco at professional conference
10:22 a.m., April 14, 2011--It's not every day that a professor gets the chance to shake hands with a prince, but a trip to an international conference on sports injuries brought Tom Kaminski face to face with Albert II, the Sovereign Prince of Monaco.
Kaminski, professor and director of athletic training education at the University of Delaware, recently returned from Monte Carlo, where he was an invited speaker at the International Olympic Committee World Conference on Prevention of Injury and Illness in Sport. He and a colleague, Prof. Bill Vicenzino from the University of Queensland in Australia, presented their work on taping and bracing interventions for ankle instabilities.
Fulbright awards
Three University of Delaware students and an alumna have received word this spring that they will travel abroad as part of the newest class of Fulbright Student Program award winners.
Peace Corps plans
Two University of Delaware students, John McCarron and Bridgette Spritz, have been selected as Peace Corps volunteers and will serve in Ghana and Rwanda.
Recent evidence supports the use of taping/bracing in individuals with a past history of ankle injury. Kaminski and Vicenzino shared a variety of cutting-edge ankle taping approaches, including Mulligan and Kinesio taping techniques, with the audience. 
In addition, two of Kaminski's graduate students, Gabriel Fife and Kathy Liu, delivered talks. 
Fife discussed his work on head injuries in the sport of taekwondo, where opponents score points via kicks to the head, often resulting in concussion. A black belt holder in the sport himself, Fife is completing his master's degree in athletic training this semester.
Liu, a doctoral student in the interdisciplinary Biomechanics and Movement Science (BIOMS) program, addressed dynamic stability in a group of intercollegiate athletes. The issue is important because deficits in postural stability have been linked to an increased risk of ankle sprain. In turn, repeated ankle sprains can lead to ankle instability.
Kaminski's meeting with the prince occurred during a gala dinner at the Salle des Etoiles, a concert hall at the Sporting Monte Carlo.
"I was truly impressed by the attention to detail given by the International Olympic Committee in hosting this conference," Kaminski said. "To take part in an official state dinner event and have an opportunity to meet the Prince of Monaco was truly memorable."
Article by Diane Kukich