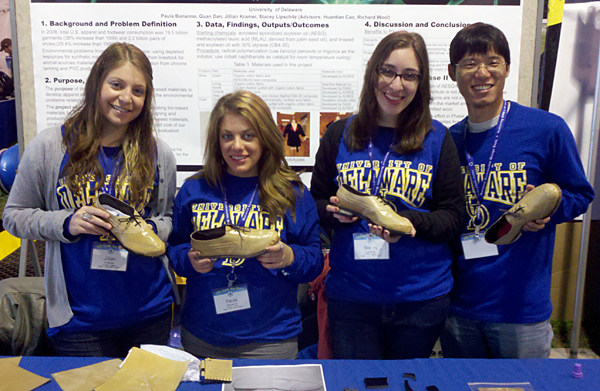 Eco-attire wins design award
UD students honored for eco-friendly clothing, footwear
8:23 a.m., April 21, 2011--Eco-friendly clothing and footwear has earned four University of Delaware undergraduates the 2011 Youth Council on Sustainable Science and Technology (YCOSST) P3 design award.
Given by the American Institute of Chemical Engineers' (AIChE) Institute for Sustainability, the award recognizes the UD research team's interdisciplinary collaboration and innovation in creating sustainable products.
National Medal of Science
President Barack Obama recently presented the National Medal of Science to University of Delaware alumnus Rakesh Jain.
Warren Award
Rosalind Johnson, assistant dean for student success in the NUCLEUS Program in UD's College of Arts and Sciences, was presented the John Warren Excellence in Leadership and Service Award during a May 26 ceremony.
The undergraduate research team includes Paula Bonanno, Jillian Kramer and Stacey Lipschitz from fashion and apparel studies and Quan Dan from chemical engineering.
Huantian Cao, associate professor in fashion and apparel studies, and Richard P. Wool, chemical engineering professor and director of the Affordable Composites from Renewable Sources (ACRES) program, advised the group with help from chemical engineering graduate student Mingjiang Zhan.
While interdisciplinary work between chemical engineering and fashion might seem like a stretch, Wool said it is potentially the most beneficial ACRES collaboration to date.
"Using biobased foam in place of toxic polyurethanes could revolutionize the high polluting leather industry. It could also lead to new multidisciplinary graduate degrees between chemical engineering and fashion," he said.
The project is funded by the U.S. Environmental Protection Agency's P3 program, a national student design competition for sustainability focusing on people, prosperity and the planet. This year's competition was held April 16-17 on the National Mall in Washington, D.C.
Read more about the eco-clothing project here.
Article by Karen B. Roberts