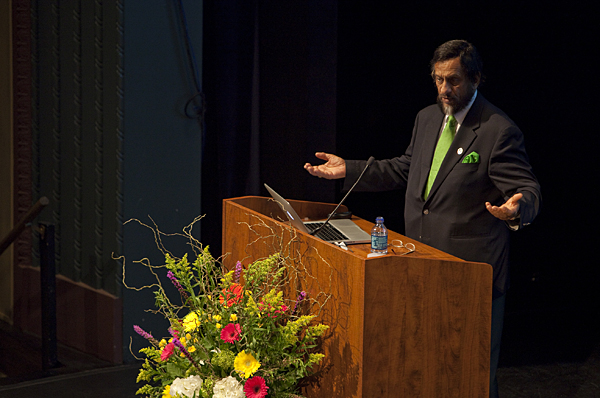 The key to sustainability
Climate expert looks to knowledge institutions for solutions to climate change
3:47 p.m., April 15, 2011--Knowledge institutions are the key to a sustainable future, according to Rajendra K. Pachauri, chair of the Intergovernmental Panel on Climate Change (IPCC), who spoke to more than 350 people in Mitchell Hall on the evening of April 6.
Pachauri spoke as part of the DENIN Dialogue Series, a semiannual lecture series sponsored by the Delaware Environmental Institute, which brings experts of international renown in environmental research and policy to address the public at UD's Newark campus. His visit was co-sponsored by the Center for Energy and Environmental Policy, the Center for Political Communication and the College of Agriculture and Natural Resources.
From graduates, faculty
As it neared time for the processional to open the University of Delaware Commencement ceremonies, graduating students and faculty members shared their feelings about what the event means to them.
Doctoral hooding
It was a day of triumph, cheers and collective relief as more than 160 students from 21 nations participated in the University of Delaware's Doctoral Hooding Convocation held Friday morning on The Green.
Along with former Vice President Al Gore, the IPCC was awarded the Nobel Peace Prize in 2007 for its work in reviewing and synthesizing the most current research on global climate change. In his talk, Pachauri described the process through which the IPCC arrives at its conclusions, which it publishes in periodic assessment reports.
Pachauri's presentation can be viewed via podcast.
"Our task is not merely to define or outline the problem, but also to look at solutions to the problem," he said, noting that the IPCC's mandate from the United Nations General Assembly includes proposing "realistic response strategies" to climate change.
The IPCC's assessment
Pachauri presented the primary findings of the IPCC's fourth and most recent assessment report, published in 2007. In that report, the IPCC concluded that global warming is unequivocal and that continued greenhouse gas emissions will produce many changes in the global climate system during the 21st century that will very likely be larger than those observed during the 20th century.
Addressing charges by climate change skeptics that the observed increases in the surface temperature of the Earth could be the result of natural variations, Pachauri referred to a graph depicting the range of predictions by climate models that include both natural and human forcing mechanisms or natural mechanisms alone.
"Natural factors such as solar activity and volcanic activity don't fully explain what has happened to temperature increases over the past 100 years or so," Pachauri said. "However, when we include inputs related to increases in the concentrations of greenhouse gases, what we get is almost a perfect fit between model predictions and actual observations."
Pachauri also reviewed the expected impacts of climate change on human societies in the coming century.
"For thousands of years, human societies have been based on a steady supply of water from seasonal melting of glaciers," he said. The reduction of ice stored in glaciers is now expected to place numerous societies at increased risk of water stress and conflict based on shrinking water supplies for drinking and irrigation.
Other effects include sea-level rise, which threatens to displace many millions of people who live in low-lying river deltas around the world, including the Nile, Ganges and Mekong deltas. Pachauri emphasized that the worst impacts would likely be experienced by the populations with the fewest resources available to adapt to change.
"Climate change will have an impact not only on future generations, but on this generation," he said.
The response to climate change
The IPCC has recommended targets for reducing greenhouse gas emissions, including an initial target just four years away in 2015, which is far from being met by countries around the world, including the United States. Economic reasons are most often cited for delays in reaching these targets, according to Pachauri, but he emphasized that the longer we wait to address climate change by reducing greenhouse gas emissions, the more expensive and drastic the required mitigation actions will become.
To those who urge inaction in the face of uncertainty, he posed the question, "What chance of a flight crashing would prevent you from boarding a plane?" Even a five percent chance — that is, five airplanes out of every 100 — would make most people refuse to fly, he said.
The good news, Pachauri said, is that the steps the IPCC recommends to reduce the emissions that lead to global warming could result in many co-benefits, ranging from improved human health, to more employment and energy security.
"There is a high level of agreement and much evidence that greenhouse gases can be stabilized by deployment of a portfolio of technologies that are either currently available or expected to be commercialized in the coming decades," he said, "assuming appropriate and effective financial incentives are in place for their development, acquisition, deployment and diffusion."
Knowledge institutions, according to Pachauri, have important roles to play in shaping our awareness of and responses to climate change, from providing new information on climate change impacts, to nurturing creative responses and technological innovations, to shaping societal debate and policy directions.
Pachauri referred to a campaign to provide solar-powered lanterns to a billion people sponsored by The Energy and Resources Institute, headquartered in New Delhi, India, which he directs, as an example of the ways in which technological innovations can be used creatively to improve people's lives in a sustainable manner.
"Innovation and ingenuity can really make an enormous difference," Pachauri said. "It can help to remove and reduce the burdens that human society is carrying, particularly among the most underprivileged people in the world. And it can raise the level of hope that gives people a bright future and gives them something to look forward to."
About DENIN
The Delaware Environmental Institute at the University of Delaware was founded to conduct research and coordinate partnerships that integrate environmental science, engineering, and policy in order to provide solutions and strategies that address environmental challenges. DENIN is directed by Donald Sparks, the S. Hallock du Pont Chair of Soil and Environmental Chemistry at UD.
Article by Beth Chajes
Photo by Tyler Jacobson