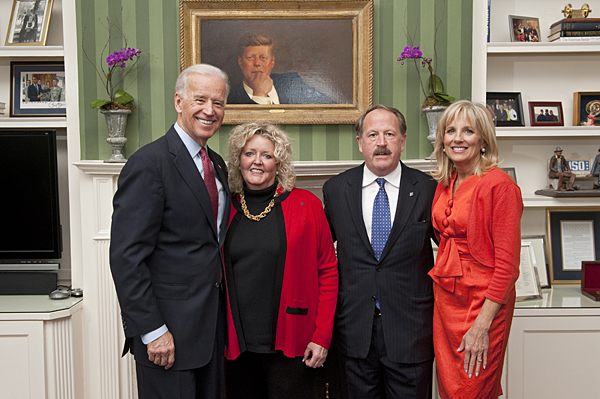 Blue Hens go to Washington
Vice president hosts alumni, faculty and friends
2:42 p.m., April 26, 2011--On a beautiful April evening in Washington, D.C., Vice President Joseph R. Biden, Jr., and his wife, Jill Biden, hosted approximately 100 University of Delaware alumni, faculty and friends at the Naval Observatory, the vice president's official residence. Guests from the Washington area and from across the country came together for this special occasion.
Both the vice president and his wife are UD alumni.
'Resilience Engineering'
The University of Delaware's Nii Attoh-Okine recently published a new book with Cambridge University Press, "Resilience Engineering: Models and Analysis."
Reviresco June run
UD ROTC cadets will run from New York City to Miami this month to raise awareness about veterans' affairs.
University President Patrick Harker opened the event with a formal address to the group. He spoke of the opportunities that are being driven to Delaware because of ongoing research in health, energy, national security and defense, as well as the thriving community of creative and talented people who are attracted by the intellectual dynamism of the University.
Expressing appreciation to the Bidens for hosting the event, Harker noted, "We are profoundly grateful to Vice President and Dr. Biden for their support of UD and of U.S. higher education."
The vice president, a member of the Class of 1965, praised Harker's vision for UD, noting that growth and change are within the University's grasp, but will take the collective efforts of alumni, friends, faculty, staff, legislators, students and parents.
He also spoke from the heart about his days as an undergraduate, recalling memories of campus life and remembering the professors who challenged and inspired him.
Biden even became emotional as he spoke about UD, the institution that he said, "is so meaningful to me, because it changed my life."
Hearing the vice president speak was especially significant for guests like Ray Jacobsen, a 1971 graduate of UD. Jacobsen said, "The high point of the evening was Vice President Biden's remarks about how his years at the University, and his mentoring by particular professors, influenced his life and helped make him a success. As he spoke, I think everyone in the room had their own recollections of their years in Newark and how the University helped prepare them for their futures."
Faculty members who help give today's students those same positive experiences were in attendance, too.  Donald L. Sparks, the S. Hallock du Pont Chair of Plant and Soil Sciences and director of the Delaware Environmental Institute (DENIN), said, "I was honored to be invited and to attend such an event.  The opportunity to meet this group of alumni and friends was very special.  It is apparent that the vice president is impressed by our accomplishments as a University, and his affection for UD is clear."
Much of the evening was spent recalling fond memories of college days, but as the guests went their separate ways, it was not UD's past that was in the forefront of everyone's mind: it was the future.  Sharing an evening that celebrated the University they all cared so much about, they left with a renewed sense of hope and inspiration for the next generation of Blue Hens.
Article by Julie Russ
Photo by Evan Krape