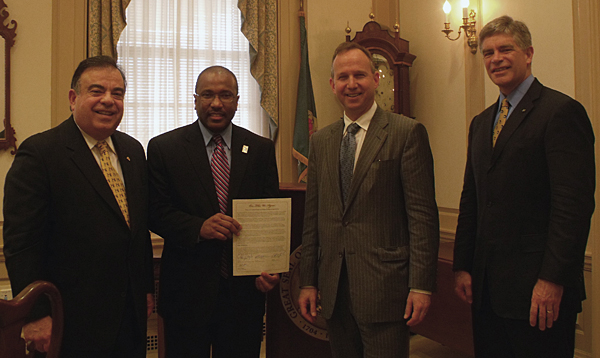 Delaware presidents join forces in Dover
UD, DSU and DTCC sign collaboration agreement with Gov. Markell
11:02 a.m., April 8, 2011--April 5, 2011, was a landmark day in Delaware -- Higher Education Day. The presidents of the state's three publicly supported institutions of higher education joined forces and brought their message of collaboration for academic, as well as economic, benefit to Legislative Hall in Dover.
From graduates, faculty
As it neared time for the processional to open the University of Delaware Commencement ceremonies, graduating students and faculty members shared their feelings about what the event means to them.
Doctoral hooding
It was a day of triumph, cheers and collective relief as more than 160 students from 21 nations participated in the University of Delaware's Doctoral Hooding Convocation held Friday morning on The Green.
While the University of Delaware, Delaware State University and Delaware Technical and Community College have been collaborating for years on programs such as the Experimental Program to Stimulate Competitive Research (EPSCoR) and the Idea Network for Biomedical Research Excellence (INBRE), Higher Education Day served as a public acknowledgement that these institutions can and will continue to combine resources from workforce development to research.
"University research drives innovation, which leads to growth," said UD President Patrick T. Harker. "But growth also comes from the creation of strong cultural environments, where people want to work and live -- and we can help with that role as well." 
"We live in an economy where the walls between organizations need to come down if we are going to compete and win -- and we are," said Delaware Tech President Orlando J. George Jr. 
DSU President Harry L. Williams agreed with his colleagues and took it a step further saying, "Collaboration is so important to our state's success." 
The trio of presidents, along with Gov. Jack Markell, signed a cooperative agreement re-committing the resources and expertise of each institution to utilize their partnerships "in ways that will support, enhance and protect the future of the state of Delaware."
"We have three institutions that are not only tremendous on their own, but are even greater together than the sum of their parts," Markell said. "They have the right leadership as well. Each of these individuals as presidents is willing to work together, to leverage their resources and combine the best of their schools' individual strengths to make our state even stronger."
For a PDF of the agreement, please click here.
Article by Meredith Chapman