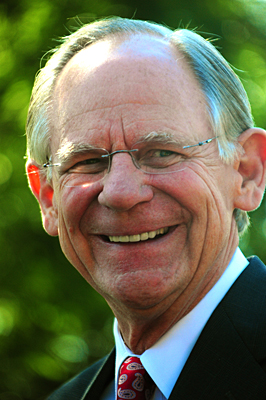 Mike Castle at Commencement
Mike Castle to speak at UD's 162nd Commencement May 28
9:40 a.m., April 6, 2011--One of Delaware's longest serving and most respected political leaders, Michael N. Castle, will deliver the address at the University of Delaware's 162nd Commencement exercises, scheduled at 9 a.m., Saturday, May 28, in Delaware Stadium on the Newark campus.
The outdoor ceremony, held rain or shine, is open to the public. For those unable to attend the ceremony, it is being webcast live.
From graduates, faculty
As it neared time for the processional to open the University of Delaware Commencement ceremonies, graduating students and faculty members shared their feelings about what the event means to them.
Doctoral hooding
It was a day of triumph, cheers and collective relief as more than 160 students from 21 nations participated in the University of Delaware's Doctoral Hooding Convocation held Friday morning on The Green.
Castle's political career includes two terms as Delaware governor and nine terms as the state's sole member in the U.S. House of Representatives. Earlier this year, he donated his Congressional papers to the University of Delaware Library.  
"Mike Castle's distinguished career in public service has made him one of the most respected figures in American politics," Pete Hayward, vice president and University secretary, said in announcing his selection. "In Washington, D.C., he played an important role in federal legislation affecting a variety of areas, including education, nutrition, welfare and campaign finance reform. 
"His commitment to service, his personal integrity and his love of Delaware make him an excellent choice to address the University's newest graduates as they move into the next stage of their lives." 
Castle launched his political career in 1965 as deputy attorney general, and the next year he was elected to the State House of Representatives, where he served one term before being elected to the State Senate. He was a state senator for eight years, stepping down in 1977. 
In 1980, Gov. Pete du Pont selected him as lieutenant governor, and after that term, he was elected to two terms as governor of the state, from 1984-92. He then was elected to the U.S. House of Representatives, serving there from Jan. 3, 1993, to Jan. 3, 2011.  
A graduate of Tower Hill School in Wilmington, he earned his bachelor's degree from Hamilton College and his law degree at Georgetown University Law School.
His wife, Jane, is a UD alumna. 
Commencement information
Details about the University's 162nd Commencement are available on a special University website.