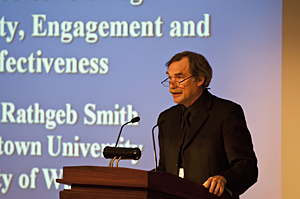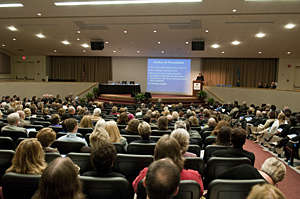 Editor's note: To see video of the March 22 events, click here.
3:43 p.m., March 23, 2010----Focusing on trends in the nonprofit sector and key challenges nonprofits will face in the coming years, Steven Rathgeb Smith, the Waldemar A. Nielson Chair in Philanthropy at Georgetown University, delivered the opening keynote address Monday morning, March 22, as the University of Delaware kicked off a two-day conference on "The Future of the Nonprofit Sector in Delaware and the Nation" at Clayton Hall.
Smith also discussed the next steps for government, nonprofits, corporations, foundations and universities in supporting the vital service and representative role nonprofit organizations play in society.
With regards to trends in the nonprofit sector, Smith said, "There's a lot of support at the federal level and there's broad support for the nonprofit sector around the country. I think this prominent and growing role for nonprofit organizations reflects several important trends in American society and public policy."
These include increased demand for expanded social and health services, things such as community care and substance abuse treatment, and he said the increasing reliance on nonprofits "reflects support for policy devolution where key management decisions on important public services are shifted down to the community level, and in the case of nonprofits to their volunteer boards as well."
Smith also said that the "broad support for nonprofits, particularly in community service, stems, in part, from the involvement of people of all ages in nonprofits for whom it will be a transformative experience to provoke greater civic awareness and responsibility."
Lastly, Smith noted that the growth of nonprofits also reflects a trend worldwide to promote individual choice with regards to the selection of public services to the citizenry. That growth leads to greater choice and selection, with possibilities available that are geared more toward specific individual and community needs.
As the nonprofit sector grows, the challenges that it faces also are growing and, Smith said, "Arguably, the nonprofits, governments and foundations are at a crossroads in terms of next steps and where they go in the future."
Smith noted the economic crisis -- which has forced funding cutbacks at the state and local levels, forcing many nonprofits to reduce services -- as one of the challenges facing the sector. "The severity of these cutbacks has been exacerbated by reductions of funding from foundations and private donors," he said.
Smith also pointed to new initiatives to increase demands for accountability, noting that state governments have embraced performance contracting with nonprofits in which agencies that receive public funds are not reimbursed by governments unless they meet certain performance targets.
With government and private funders placing more emphasis on evaluation and performance measurements, Smith said "the pressure for accountability and improved performance, combined with the ongoing financial pressure on nonprofit organizations, means that nonprofit agencies are engaged in complex and sometimes contradictory relationships with other agencies in the service field.
"Funding cutbacks can prompt nonprofits to join together to influence public policy, and the growing interest in efficiency is spurring agencies to explore ways to share cost, including co-locations of some programs and services. So there is pressure on agencies to be more collaborative, and yet performance contracting and the sheer growth of the number of agencies in many communities is actually encouraging more competition among agencies for funding and clients."
Because of the fiscal cutbacks, as well as the increase in competition among nonprofits, Smith said he believes "it is a very important and critical time for government, nonprofits, foundations, corporations and universities to rethink how they're working together. Because we have so many organizations out there and the funding is scarcer, there is a need to rethink how we're doing business."
Smith said government should take an investment approach when working with nonprofit organizations, one "that emphasizes accountability as well as results and sound governance of community engagement."
This investment approach would involve ongoing support with technical assistance and capacity building and performance contract reform, of which Smith said, "Performance contracting can be an important strategy to achieve more effective services but it can also be a burden."
As to the nonprofit organizations themselves, Smith said they must "usefully rethink their governance to help promote sustainability and improved effectiveness. This could include their partnerships and collaborations with other organizations; it could also include more broadbased support for the agency and the agency committees and various kinds of outreach to local communities."
Smith also said nonprofits, including board members, staff and volunteers, could do more to engage the policy process. "This could include a whole range of activities from participation in local community events and organizations to membership in coalitions and associations to more active, direct engagement in advocacy on behalf of nonprofits in their community," he said.
Smith added that nonprofit organizations should be innovative and creative in their own organizational structure and in their relationships with other organizations.
With regards to foundations and their relationship going forward in supporting the nonprofit sector, Smith said that they should "do more to help support advocacy by nonprofits."
Smith also noted that because "most foundations don't have resources to effectively tackle policy problems on their own, they should think about partnering with other foundations, corporations and government to develop more extensive responses to local issues."
Universities, Smith noted, can help nonprofit organizations through "their research, education and training programs. The University of Delaware has a number of important educational programs that train nonprofit leaders; it also has University-based research programs that can play a major role in identifying what the key issues are in the nonprofit sector."
Smith finished his talk by saying that with the increasing interest in the American nonprofit sector, urgent public problems in need of attention and the economic crisis, "To effectively respond, nonprofit agencies, foundations, universities, corporations and government will need to think creatively and constructively about their roles and responsibilities in order to successfully address social problems and local needs."
The conference is part of a continuing series of programs on Creating Knowledge-Based Partnerships, that is designed to engage education, government, community and business leaders in the challenges and opportunities of creating and sustaining partnerships of importance to Delaware, the region and the nation.
Conference sponsors include the Longwood Foundation, the Delaware Philanthropy Forum, the Delaware Community Foundation, the Jesse Ball du Pont Fund, the Association of Fundraising Professionals, the Laffey-McHugh Foundation, the Welfare Foundation, AstraZeneca, DuPont, Delmarva Power, the Bank of America, JP Morgan Chase, the Wilmington Trust Co., United Way of Delaware, the Federal Home Loan Bank of Pittsburgh, the Cannon-Arsht Foundation, the Delaware Association of Nonprofit Agencies (DANA), the state of Delaware, the Office of the Governor, the Delaware State Chamber of Commerce, the Delaware Public Policy Institute, the News Journal, Delaware State University, Delaware Technical and Community College and the University of Delaware.
Article by Adam Thomas
Photos by Doug Baker