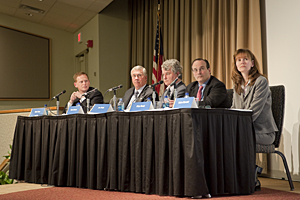 Editor's note: To see video of the March 22 events, click here.

4:07 p.m., March 23, 2010----To help collaborative efforts between foundations and nonprofits in the First State, especially during challenging economic times, the Delaware Philanthropy Forum has launched the Delaware Grantwriters Association, which will have headquarters in Wilmington.
The announcement was made by Peter Morrow, president of the Welfare Foundation, during "The Future of the Nonprofit Sector in Delaware and the Nation" conference on Monday, March 22, in Clayton Hall.
The two-day conference, which continued Tuesday and was attended by more than 500 leaders of the state's nonprofit community, is part of continuing series of Partnership programs held at the University of Delaware.
Morrow made his announcement as part of a panel discussion, "Strengthening Philanthropy and the Nonprofit Sector in Delaware," moderated by John Taylor, executive director of the Delaware Public Policy Institute.
Panel members also included Delaware Lt. Gov. Matt Denn; Chip Rossi, Bank of America Delaware market president; Jon Pratt, director of the Minnesota Council of Nonprofits; and Helen Stewart, vice president, JP Morgan Chase.
"Delaware needs a strong philanthropic sector to accomplish it goals, and it also needs a strong philanthropic infrastructure," Morrow said. "The Delaware Grantmakers Association is a start-up organization, and the members of the board of directors of the Delaware Philanthropic Forum have agreed to be the new organization's original board of directors."
The need for such an organization to represent the major foundation contributors in Delaware has become more urgent in the current economic downturn, which has seen a significant reduction of funding to nonprofit organizations.
"Everybody realizes the impact of the current dire economic situation and how that affects all of us," Morrow said. "Hopefully we will get through all of this. I think we have taken a very important first step."
Denn said services provided by the nonprofit sector are of great importance and that efforts must be directed to helping nonprofits best serve their clients in the state.
"As good as we have been in the for-profit sector, we haven't done as well in strengthening the nonprofit sector," Denn said. "Because of our small size, we have to form a partnership between the state and nonprofits. We can do better in giving nonprofits better opportunities to take advantage of state resources."
Based on his experiences with nonprofit agencies in Minnesota, Pratt noted that one of the benefits of serving in nonprofit sector leadership roles is that it provides a strong basis for continued leadership in many areas, including those of elected government positions.
"We all benefit from this positive social capital. We learned in Minnesota that city councils prefer members who have had previous board experience," Pratt said. "People want to be involved in something larger than family, but less than the state."
Rossi, a Delaware native, said that Bank of America is committed to help serve the nonprofit sector as it provides services for all Delawareans.
"We are here in Delaware, and we plan to be a significant part of this effort," Rossi said. "We all know that in difficult times, its important that you link community and the economic sector -- it is good business, but it is also the right thing to do.
Stewart, who oversees charitable work along the East Coast, said that people are aware that the nonprofit world is facing one of the toughest times in its history, and that funding of charities is becoming more competitive.
"We are interested in making transformative changes and we want to walk away with specific ideas about how to do this," Stewart said. "We believe funders should actively participate in a fund makers' group. We can't do this alone, but each of us can bring something specific to the table."
Article by Jerry Rhodes
Photo by Evan Krape