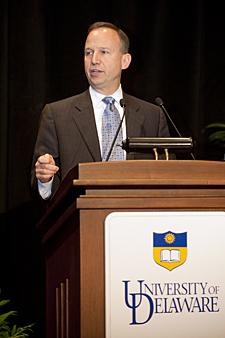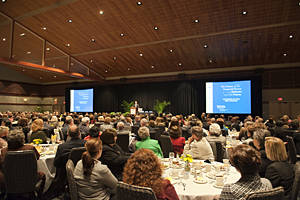 Editor's note: To see video of the March 22 events, click here.
3:55 p.m., March 23, 2010----Delaware Gov. Jack Markell called for a strategy that draws on the strengths of the special relationship between the public and private sectors in Delaware to more effectively meet the needs of those served by the nonprofit agencies in the First State during difficult economic times.
Markell made his remarks Monday, March 22, during a noontime keynote address before an audience of more than 500 attendees of the "Future of the Nonprofit Sector in Delaware and the Nation" two-day conference, held March 22-23 in Clayton Hall.
The conference was the latest in a series of the University's Creating Knowledge-Based Partnerships conferences and provided an opportunity for state, foundation, corporate and nonprofit leaders to discuss initiatives needed to strengthen the nonprofit sector and its partnerships with government and philanthropy.
"What I expect to get out of today and tomorrow is a vision that recognizes the critical relationships between our public sector, our private sector and our not-for-profit sectors here in Delaware," Markell said, adding, "One that will ensure that all of the resources that are provided to and by nonprofit institutions, including grant-making organizations, are used effectively and for the maximum benefit of Delawareans."
Markell noted that the same challenges resulting from the prolonged economic downturn can also be a source of strength and opportunity for the business, government and nonprofit community.
"Those of us in government and in the not-for-profit sector face many of the same challenges," Markell said. "The lessons that we have learned in dealing with this national recession will help inform all of us as we go forward."
In recognizing the contributions of the business community, Markell noted that when the economy slows down, so does the demand for the goods and services. The opposite is true for those in government and nonprofits, who see increased demand.
"The irony is that for those of us in the government and not-for-profit sectors, it is different," Markell said. "It is exactly at these moments and times, when revenues are challenged, that the need for our work is the greatest."
Over the last few years, Markell noted, not-for-profits have seen a tremendous decline in their ability to get many of their primary sources of revenue.
"Everybody -- from foundations, to families, businesses and government -- simply has less to give at times when not-for-profit financing means so much more," Markell said. "State government is in the same boat. Last year the revenues brought in to our state to deal with all the day-to-day functions of government fell by hundreds of millions of dollars, right at the same time when tens of thousands of additional Delawareans signed up for the services that we provide."
Because these challenges are so formidable, governments and the nonprofit community have been seeking similar solutions to the same problems. For the state, Markell said, the key is to create more and better jobs to build a stronger economy.
"To do that, we have to encourage economic growth, which means improving the economic climate in Delaware," Markell said. "We have to make sure our government is run as efficiently as it can be, and we have to provide our kids with a world-class education so they can work in great jobs. If we don't have strong schools, we are not going to have a strong economy."
Markell noted that the same strategies that hold promise for building a better economy -- government efficiency and top-level educational opportunities -- might also hold true for the nonprofit community.
Markell urged leaders of nonprofit organizations to take a look at ways to measure performances results and the delivery of services, especially in view of the investments made by agency supporters.
"Just as we in government are under increasing and understandable scrutiny from our 'board' -- the taxpayers -- so, too, all of you are under increasingly scrutiny from your own boards," Markell said. "Just as schools nationally are recognizing the need to consolidate, not-for-profits are looking for ways to work together, to share costs and services to help achieve your mission."
The partnership between the public, private and nonprofit sectors "is more important than it has ever been," Markell said, because "when not-for-profits become weaker, the burden on taxpayers only increases."
Markell told the audience, "How eager we are to embrace this opportunity to change, how willing we are to push forward together is going to determine how successful we are in renewing our state social promise and our economic potential," Markell said. "I want to offer my personal thanks to all of you for getting together to address these issues. I offer as well my personal commitment to work with you as we work together to improve the overall effectiveness of the state. I know that we will more forward together."
Article by Jerry Rhodes
Photos by Evan Krape