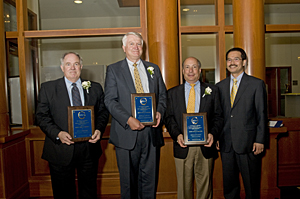 Forum & Reunion Weekend 2010
9:46 a.m., June 8, 2010----Three University of Delaware alumni from the Lerner College of Business and Economics received the college's prestigious 2010 Alumni Awards of Excellence during a reception and awards ceremony as part of UD's Forum & Reunion Weekend on Friday, June 4.
This year's honorees included Edward Ratledge, who graduated from UD in 1971 with a bachelor's degree in economics and who received a master's degree in economics in 1972; Edmond J. Sannini, who graduated in 1978 with a bachelor's degree in accounting; and William Sullivan, who graduated in 1974 with a bachelor's degree in business administration and operations management.
The awards, established in 1991, are presented annually to a select few alumni who have exhibited exceptional accomplishments in their careers and personal achievements as well as contributed to their communities.
Dean Bobby Gempesaw welcomed guests to the reception.
"Out of over 25,000 alumni of the Lerner College, only 64 alumni have received this prestigious award," said Gempesaw. "Tonight we honor just three more alumni who have made truly remarkable accomplishments in their personal and professional lives."
Dan VanSciver, a 1990 graduate and member of the Lerner College Alumni Board of Directors, chaired this year's selection committee, which included Jennifer Baur, a 1995 graduate; Andrew Hill, who received a bachelor's degree in 1996, a master's in 1997 and a doctorate in 2003; Bob McNutt, who received a master's in 1969; and Cal Amir, a 2001 graduate. All also serve on the board of directors.
"These are top tier graduates with high integrity and commitment," said VanSciver. "They have quickly risen to become community leaders and business leaders while maintaining strong ties with UD. When we read through the nominations, it was clear these individuals are great citizens with strong character who make a difference in other people's lives."
Edward Ratledge
Ratledge is the director of the Center for Applied Demography and Survey Research (CADSR) at the University of Delaware. The center conducts survey research and policy research for a wide range of federal, state, and local government agencies and non-profits.
In his other roles as a policy fellow and associate professor in the College of Education and Public Policy at UD, Ratledge has accumulated more than 30 years of experience working with state and local government at both policy and operational levels. He is currently working on a variety of diverse projects, whose common thread is the integration of methods from economics, statistics, demography and computer science.
In addition, Ratledge has worked extensively in the application of advanced computer technology to combat economic and organized crime. That work is international in scope and ranges from activities with the United Nations in places such as Havana, Cairo and Moscow.
Ratledge has been a member of the Delaware Economic and Financial Advisory Council, the revenue subcommittee since its inception in 1977 and he chairs the expenditure subcommittee. He is also vice-chair and member of the board of the Delaware Health Information Network. He is and has been an active member of the Delaware Population Consortium since its inception in 1975. He is also the state's representative in work with the U.S. Bureau of Census to produce annual estimates and projections. Ratledge and his colleague, Bill Boyer, recently produced Delaware Politics and Government, which was published by the University of Nebraska Press (2009).
Although Ratledge was born in Alabama in 1943 and thus is not a native Delawarean, his family traces its roots in the state from the 1700s. He grew up here and, after returning from military service in Vietnam in 1970, completed his studies at UD.
Edmond J. Sannini
Sannini is a managing director at Morgan Stanley where he is responsible for corporate reporting and analysis. His responsibilities include firm-wide budgeting and forecasting, board of director and senior management reporting, and corporate consolidation and external reporting. Sannini's responsibilities are global, and he oversees teams in New York, London, Tokyo, Hong Kong and Budapest.
Prior to joining Morgan Stanley in 2004, Sannini was controller at Freddie Mac from 2001 to 2004, overseeing their financial reporting functions during a period of extraordinary change and challenges.
From 1984 to 2001, Sannini held roles of increasing responsibility at J P Morgan in their audit and finance functions in Delaware, Tokyo, London and New York. His roles included head of Asia and European audit, deputy global auditor, and CFO of Europe, Asia and Africa. Sannini worked for PricewaterhouseCoopers for five years upon graduation from UD.
Sannini shared his global experiences with author Scott Eblin in the book The Next Level: What Insiders Know About Executive Success. He has helped organize alumni receptions in New York City over the years. He is also a Double Del with spouse Coni Frezzo and has two daughters. As a family, they are active in a number of community initiatives in northern New Jersey.
William Sullivan
Sullivan, a certified hospitality technology professional, is the managing director of the Courtyard Newark at the University of Delaware and has served in this role since opening the hotel in November 2004.
In addition to managing the hotel, Sullivan has been an adjunct instructor in the University of Delaware's Department of Hotel, Restaurant and Institutional Management (HRIM) since 1990. He teaches the Hospitality Practicum course to HRIM students, and is nationally regarded for his expertise in hospitality systems design and operations.
Sullivan retired from the DuPont Co. in Wilmington in 2004 after 31 years of service. He has spent considerable portions of his career in DuPont's hospitality and real estate operations, and was previously the director of hospitality for DuPont Hospitality, with management responsibility for the Hotel du Pont, the DuPont County Club and the Playhouse Theater.
Sullivan is the immediate past chairman of the board of the Delaware Hotel and Lodging Association, a board member of the Greater Wilmington Delaware Convention and Visitors Bureau and the current chairman of the board of the Delaware Tourism Alliance. He is also the president of the board of directors of the Mary Campbell Center, a residence for multi-handicapped people.
In 2007, Sullivan was honored to receive the Hospitality Financial and Technology Consultants' Technology Award of Merit. In 2009, he was honored by HRIM with the Renaissance Award for service to the University and the City of Newark.
Sullivan is married to RoseMarie Sullivan, a professional singer, and has three daughters, all UD graduates.
Article by Kathryn Ann Marrone
Photo by Duane Perry