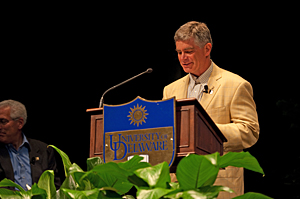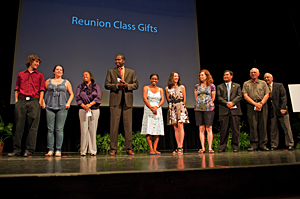 Forum & Reunion Weekend 2010
4:37 p.m., June 7, 2010----University of Delaware President Patrick Harker met with alumni at Forum and Reunion Weekend on Saturday morning, June 5, in a town hall-style program titled "A Vision of Excellence."
Harker highlighted many of UD's accomplishments during the past year and described some goals for the coming year and beyond. Those included plans for a new interdisciplinary science and engineering building, improved recreational and varsity athletic facilities, development of a Science and Technology Campus on the site of the former Chrysler Assembly Plant, expanded research partnerships, a new bookstore that he said will become "the signature store on Main Street" and numerous other initiatives.
A project that began construction this spring and is targeted for completion next year is the UDairy Creamery, which Harker called "a student-run, faculty-supported effort" by the College of Agriculture and Natural Resources. The facility on South Campus will use milk from the University's dairy herd to manufacture, market and sell ice cream and other homegrown or handmade agricultural products.
Other plans Harker highlighted involve creating a student housing focus on East Campus, in addition to the recently constructed housing on Laird Campus. With the demolition of the Gilbert residence halls, and the future elimination of the Rodney and Dickinson complexes as student housing, a three-phase project is planned to add some 2,000 beds to East Campus. Involving new residence halls, a new dining hall and renovations to the Harrington complex, construction is slated for 2011, Harker said.
Also at the town hall, he unveiled a new branding identity for the University that is summed up in a key phrase, "Dare to be First." That brand, he said, will provide a consistent way to "articulate our core message -- the message that describes our attitudes, our vision, our mission and our unique identity -- to the world. ...It's a bold statement that comes from our history."
He described results of the re-branding process as identifying six attributes that make the University distinctive:
Talent Magnet, "boasting some of the world's most dynamic faculty, students and alumni";
Discovery Learning, demonstrated by a national survey in which UD outperformed all its peers in real-world learning;
Citizen University, using UD's expertise and ideas to make a difference in the world;
East Coast Classic, because of Delaware's "middle of it all" location in the region and the nation;
Idea Leadership, highlighted by scholarship and entrepreneurship that combine to innovate and solve problems; and
Smart Money, particularly UD's ranking as 16th in the nation for graduates' earning power compared with tuition.
"I think it's clear we're on the cusp of great things at UD," Harker said. "We're growing bigger and more ambitious. We're growing bolder. And that's what we want to tell the world."
In reviewing the past year, he gave a brief description of several achievements. They included a significant number of faculty hires, nearly all of whom were the University's first choice for their positions, and "the most academically accomplished class ever" in the coming year's freshmen. Research funding has grown substantially, he said, and many new projects were launched this year, such as the Institute for Global Studies, Center for Political Communication, Delaware Environmental Institute, Diversity and Climate Advisory Commission, a broad research partnership agreement with the U.S. Army and the construction of a wind turbine on the Hugh R. Sharp Campus in Lewes.
Questions from alumni attending the meeting focused on such topics as job creation, relations with Delaware State University (DSU) and corporate recruiting of new graduates. Harker said the technology park planned for the former Chrysler property is expected to generate a substantial number of jobs, from shorter-term employment in construction at the site to permanent jobs as companies locate there.
In terms of recruiting, he said the University is expanding its career services to allow individual colleges to target potential employers specifically for their students. As for DSU, Harker said, not only has UD begun scheduling football matchups, but academic partnerships between the two institutions are growing, as is dialogue between the leaders of the two universities.
The town hall meeting began with a welcome by UD Alumni Association President Alan Brayman, a 1973 graduate, who urged alumni to continue attending events and staying involved with their alma mater, and the presentation of class gifts from this year's five reunion classes.
The gifts totaled $427,640, with presentations made by the classes of: 2010, whose 428 participants gave $10,865, a sum that class gifts chairperson Chelsea Berdolt said "is just the beginning of a lifetime commitment"; 2005, whose 409 participants gave $35,505; 2000, with 293 classmates giving $34,188; 1985, whose 383 participants gave $123,829; and the 50-year reunion class of 1960, which gave $223,253 from 177 of its members, for a participation rate of more than 40 percent.
"I thank all of you for giving back to UD, for valuing what we do here and for helping us do it even better," Harker said in accepting the gifts. "We couldn't be more grateful for your support."
Article by Ann Manser
Photos by Kathy F. Atkinson