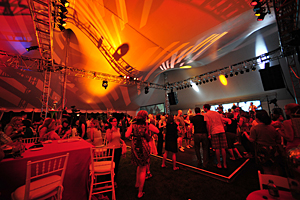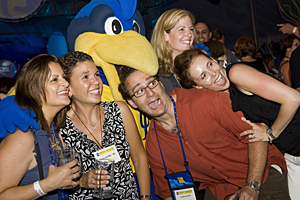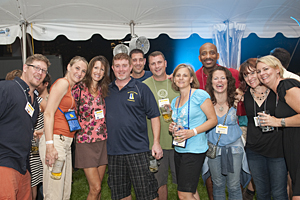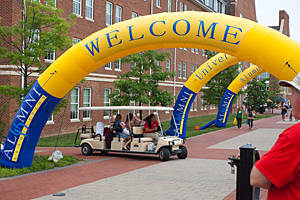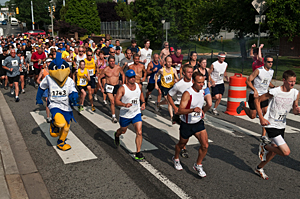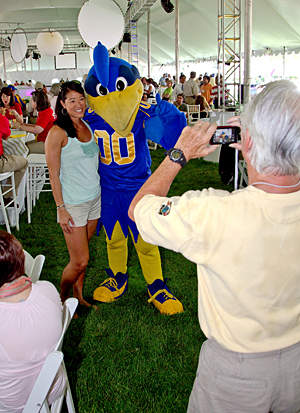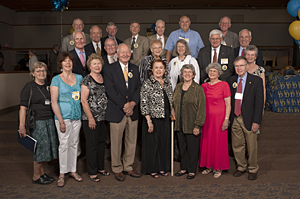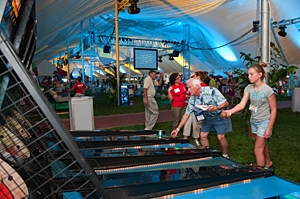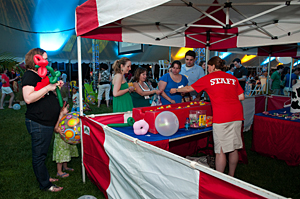 Forum & Reunion Weekend 2010
Editor's note: For slide shows or to order photos, visit the special Forum & Reunion Weekend website.

4:35 p.m., June 7, 2010----Nearly 3,000 alumni, faculty, family, friends and future Blue Hens flocked to the University of Delaware this weekend for the second annual Forum & Reunion Weekend.
"It was a fantastic celebration all the way through," said UD President Patrick Harker. "This weekend has become such a great way for alumni to reconnect with the University and with old friends. It's a terrific time to be at UD, and events like our growing Forum & Reunion Weekend make it even more exciting."
"This was one of the best organized and most supported events that we have held at the University -- by all the departments," said Monica Taylor, vice president of development and alumni relations. Taylor noted the success of the weekend would not have been possible without the nearly 300 faculty and staff who volunteered their time.
The weekend boasted events for one and all -- from the town hall meeting with Harker discussing the state and future of the University to the Blue Hen 5K and Kids' Fun Run to the Boardwalk where the aroma of cotton candy and corn dogs filled the air. Roughly 600 of the weekend's participants also opted to relive their college experience by staying in the residence halls.
However, the most widely attended event of the weekend was Friday's Mug Night Dela-bration. More than 2,000 attendees joined together on The Green to reconnect with friends and faculty while listening to the tunes of Love Seed Mama Jump.
Cindy Campanella, director of alumni relations, said she was extremely pleased with this year's event. "Forum & Reunion Weekend was phenomenal. Not only did we increase our turnout by almost 75 percent, but we are also engaging the University of Delaware community on many different levels. Numerous families have said this will become an annual tradition for them and generations to come."
UD alumna and Double Del Marjorie Orendorf, a 1966 graduate, agreed. "Our connection to UD is even greater since we have had our three daughters attend," she said. "It's been a wonderful weekend, and I'm hoping our grandkids will go here -- so these types of events certainly keep them interested."
While some used the weekend as a way for their families to connect with their alma mater, other UD graduates enjoyed connecting with former classmates and bonding with fellow alumni.
"You see people you haven't seen for years, even though they might not have been in the same class. I saw some fraternity brothers of mine from the late '50s, and it's just great to renews friendships like that," said Barney Reynolds of the Class of 1958.
Barney's wife, Ruth Reynolds, who graduated in 1964 and earned a master's degree in 1996, and who serves on the UD Alumni Association board of directors, said she loves the whole idea of the weekend and hopes to see more young alumni attend in the future.
Christopher Lang of the Class of 2010, who is also the recipient of this year's Alexander J. Taylor Sr. Award as the outstanding man in the graduating class, was eager to return to campus for the weekend. "It was really good to connect with some older alumni as well as my friends I just graduated with, but there's definitely a benefit to meeting older alumni and getting to talk to them. I think this weekend is a great way to do that," he said.
Monica Taylor said connecting various generations of alumni and building the traditions and connection with the University is really what Forum & Reunion Weekend is about.
"What we'd like to see is people coming back year after year," Taylor said. "It's not about whether you're celebrating a quinquennial reunion; we want people to reconnect with the University and come back every year they can for this weekend."
Class of 1960 Reunion
On Saturday, one of the groups coming back to campus for a milestone was the Class of 1960. More than 170 graduates from 1960 returned to UD to celebrate their 50th reunion.
Following an afternoon of activities, including a bus tour of campus, a stop at Harker's town hall meeting and the Gold Guard Induction, classmates and their families convened in Clayton Hall for their Reunion Celebration & Dinner.
Dick Price, reunion programming chair for the class, said he was thrilled with the turnout for the dinner. "I believe that our 50th was a resounding success," he said.
Part of the program for the evening provided a unique look at the Class of 1960 through its Memory Book, which focused on the stories of three men and three women from their class and their insights and lessons in life.
However, a final piece of the evening was, as Price said, "an opportunity to right a wrong." Apparently, a rainstorm abruptly ended Commencement in 1960, and roughly 25 graduates never had the opportunity to have their names announced as they walked across the stage and shook the president's hand. Consequently, President Harker stood in as a surrogate for then-President John Perkins and eight of the 25 completed their long-overdue graduation.
Additionally, Price said he was proud of the 40 percent participation rate for their class gift to the University, totaling almost $225,000.
"The class's response to the fund drive was gratifying, a bare minimum of arm-twisting and a response that went well beyond our stretch goal," Price commented.
Article by Meredith Chapman
Photos by Kathy F. Atkinson, Ambre Alexander, Doug Baker, Mark Campbell, James Hopkins, Evan Krape, Duane Perry, Kevin Quinlan