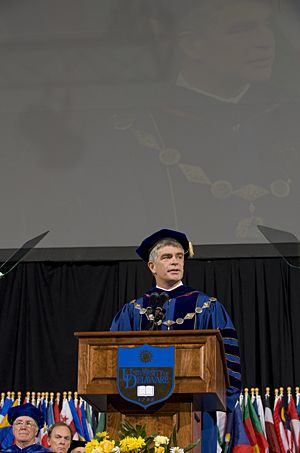 University of Delaware
Winter Commencement
Saturday, Jan. 9, 2010
Thank you, Gil.
The entire University of Delaware community was saddened yesterday to hear of the passing of Jean Biden, mother of the vice president. Our thoughts and prayers are with her family, and we are tremendously grateful that Dr. Jill Biden is able to be with us during this difficult time.
I'm delighted to welcome you to UD and to help pay tribute to the University's newest graduates.
What a great day this is. It's the day that a lot of dreams are fulfilled. And -- even better -- it's the day that many more are hatched. It's fitting that, today, beginnings overshadow a very obvious end. It's called a "commencement" for a reason. It's as hopeful a name as we can give. It invokes anticipation and possibility -- potential energy ready to kick into kinetic. We're celebrating what you're about to do as much as what you've done.
Your parents, your professors, and I -- we still have those days when it all seems limitless, when every dream is possible and time is inconsequential, though I'm sure you have many more of those days than we do. But, twice a year, I get to see this kind of optimism up close and in large quantities. And I never get tired of it. It's the best part of my job.
And because we're celebrating a beginning, rather than an end – things not yet accomplished versus those already done – it seems appropriate that a few of us up here in robes be allowed to offer you some advice. That's probably why we decided to call it a Commencement in the first place.
I'll try to keep mine short. Just three things, really.
Be interested.
The first is to be interested. Everyone wants to be interesting, but it's more important to be interested. The latter tends to secure the former anyway. Be interested in what surrounds you -- your family, your friends, your career, your community. Be interested in how the world works and how it doesn't.
Human beings are wired to construct meaning and pursue purpose, to find our role in life and define our obligation to others. We want something active to do, something that involves not only effort but purposefulness, something that engages our mind and tests our will.
We are problem-seekers and problem-solvers. But to solve problems, you must understand them. To understand them, you must engage with them. And to engage, you must be interested. Interest breeds action.
And don't worry about the gravity of your interests or the grandeur of your pursuit. Scale is beside the point. Everyone's meaning is different, but if you approach it with integrity and earnestness-if you aim for excellence in everything you do -- the pursuit ennobles the cause.
So I hope you find your purpose. In fact, I hope you find it over and over and over again.
Be open.
My second piece of advice is that you be open -- to many things, of course -- to different ideas, opinions and perspectives. That's the "intellectual diversity" we invoke in our Path to Prominence -- the acknowledgement that a democracy like ours demands sustained curiosity and informed criticism.
Being open to disparate views doesn't necessarily mean embracing them, but it does mean entertaining them. Your truth may not change. It may emerge stronger than before, or more nuanced. But it will have been tested. And that's the important thing.
Be open about your plans as well. That might be an unpopular piece of advice when you've just invested four years mapping out a pretty specific future. But the fact is we change jobs about every four years -- the span of your UD career, more or less. And some of those job changes are much more than that. They're major occupational detours, entirely different paths. I started out a civil engineer.
But there's more reason to remain open to different careers than the sheer pragmatism of it. In bringing one skill set to another discipline, you might make a difference on a scale you simply couldn't otherwise.
To the nurses, the med techs, the biological sciences majors, how could you shape healthcare reform if you took on public policy? To the engineers, what's your worth to a high school student struggling in math? And to the educators, what comparable causes could be helped by your skills and advocacy?
Life is seldom linear, and sometimes the detours are just the change of scenery you need.
Be optimistic.
My last piece of advice is that you be optimistic. Human beings are optimistic by nature. In fact, studies show that most of us are irrationally positive. We don't expect to get sick or fired or divorced. We don't expect to fail. I take a lot of pleasure in that -- considering the alternative.
It's optimism that got us to this place -- as a people, as a civilization and a society. And it's optimism (and a lot of hard work) that will continue our evolution into something better. To make meaningful change, you must believe change is possible, you must believe improvement is inevitable, you must believe we can be perfected -- slowly, diligently perfected.
In the early 1990s, I served as a White House Fellow under the first President Bush. And it was in that capacity that I met John Gardner, the former secretary of Health, Education and Welfare, and the man who proposed the Fellows program a few decades earlier. This is what he said about optimism: The future isn't shaped by those who don't really believe in it. "Men and women of vitality have always been prepared to bet their futures -- even their lives -- on ventures of unknown outcome."
Optimism takes the capacity to risk and the capacity to hope, and I wish you large reserves of both. Your intellect and talent will take you far, but the will to invent, to innovate, and to improve is rooted in optimism.
So, be interested; be open; be optimistic. And whatever your path, I imagine great things will come.
I'll leave you with another thought from John Gardner that seems especially appropriate today. He said, "There's something I know about you that you may or may not know about yourself. You have within you more resources of energy than have been tapped, more talent than has been exploited, more strength than has been tested, more to give than you have been given."
Of course that's true now. You're young -- most of you -- and your path is still unfolding. But I ask that you keep that quote in mind 10, 20, 30 years down the road. It will still be true then. You will still have more to give ... and I ask only that you give it.
Thank you and congratulations!