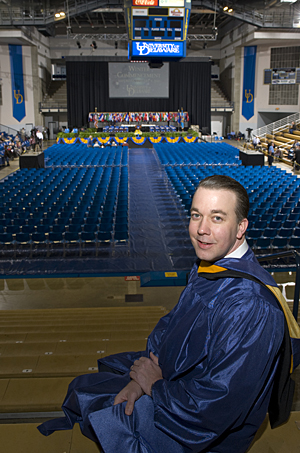 4:36 p.m., Jan. 9, 2010----Two years ago, John Timmerman, a highly accomplished corporate executive, decided to tackle one more challenge by enrolling in the University of Delaware's Lerner College of Business and Economics.
Timmerman, corporate vice president for operations for the Ritz-Carlton Hotel Company, was awarded a bachelor's degree in hotel, restaurant and institutional management during Winter Commencement on Jan. 9, accompanied by his wife, Hae Timmerman.
Established in 1983 with the purchase of The Ritz-Carlton, Boston, and the rights to the name Ritz-Carlton, the management company with 38,000 employees has grown from one hotel to 72 hotels worldwide with plans for further expansion in Europe, Africa, Asia, the Middle East and the Americas. The Ritz-Carlton Hotel Co. is an independently operated division of Marriott International, Bethesda, Md.
Timmerman, who had previously attended Pennsylvania State University, said his decision to enroll was driven by his belief that it is important for professionals to make continual investments in their personal development to remain competitive in today's labor market.
"I wanted to continue my education as a working executive with a high quality institution," Timmerman said. "I selected the University of Delaware because UD demonstrates top rankings in the various surveys and polls, provides faculty that are thought-leaders in their area of specialty and has a rich legacy of providing higher education for more than 250 years."
Timmerman, who began the journey with a management and organizational behavior course in the summer of 2008, said he was very impressed by his first professor.
"I've found that the UD faculty deliver high quality curriculum of a large institution with the personal touch and feeling of family," Timmerman said. "It is important to mention that my academic adviser, Donna Laws, played an important role and was extremely responsive to helping me through the program."
Timmerman said that juggling his studies with a busy work schedule required meticulous planning and deep commitment.
"The biggest challenge is starting the process -- not deferring the investment -- and developing a rhythm, making it a programmed and daily habit," Timmerman said. "I'm somewhat of an early bird and would do most of my course reading early in the morning between 4 and 6 a.m. This would still allow me enough time for a quick work-out before arriving at work around 7 a.m."
Timmerman's typical day runs about 12 hours, and he starts winding down at 7 p.m. by finishing work correspondence, enjoying dinner and treating himself to an occasional sitcom, including one his favorites, The Office. During his studies, Timmerman spent his weekends writing term papers, spending time with family and carving out time to evaluate and plan long-term business priorities.
Timmerman said he enjoys traveling and learning about new places, cultures and history.
"My job already involves a fair amount of travel, and my wife still does not understand why I want to jump on a plane for a vacation when I just returned from a trip," Timmerman said.
"I'm a former U.S. Force Reconnaissance Marine and I love the water. My most recent thrill was breaking past 200 feet on a mixture of helium while diving the U.S.S. Oriskany shipwreck off the coast of Pensacola," he said.
Timmerman said he is already thinking ahead and planning for his second career, most probably as a teacher. He enjoys developing leaders and sharing his knowledge and expertise as a guest lecturer.
Article by Martin A Mbugua
Photo by Kathy F. Atkinson