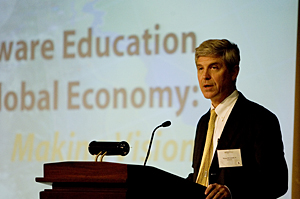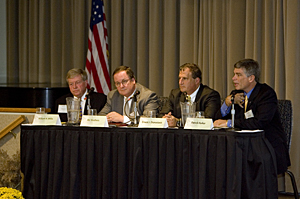 Making Vision 2015 Work conference
Click here to view or download a video of this conference session.
5 p.m., Oct. 3, 2008----The growing necessity for dedicated community involvement by corporate leaders in Delaware was the focus of panelists speaking to a packed room of approximately 300 at "Vision 2015 and Delaware's Economic Prosperity," an afternoon discussion that was part of the "Delaware Education for a Global Economy: Making Vision 2015 Work" conference, held Thursday, Oct. 2, at Clayton Hall.
Panelists also stressed the need to keep stride educationally with up-and-coming nations, like China, as the global landscape shifts; and all but three shared cultural observations from recent trips to Asia that underscored this point.
Panelists included UD President Patrick Harker; Ernest J. Dianastasis, chairman of Delaware Business Roundtable and First State Innovation and managing director of CAI; Ric Struthers, chairman of the Delaware State Chamber of Commerce and consumer credit risk executive of Bank of America; and William H. Willis, president of Willis Motors Inc. Thomas M. Connelly Jr., executive vice president of the DuPont Co., served as moderator and John H. Taylor, Jr., executive director of the Delaware Public Policy Institute, gave the opening remarks.
"The pursuit of new models of partnership among government, industry and higher education is crucial to ensure that Delaware is more competitive in the global economy of the 21st century," Harker said in his initial remarks. "The global restructuring of economic forces demands that we re-focus on the emerging requirements for long-term prosperity, and it is critical that we understand the vital role of education in the global economy."
Harker went on to say that in light of the University's strategic plan and push toward greater international prominence in the realm of higher education, the commitment to--and partnership with--public education was more important than ever. "The first guiding principle of UD's Path to ProminenceTM," he said, "is 'Delaware First,'" UD's multi-faceted plan to provide Delaware students with access to top-quality education.
"The goals of Vision 2015 are ambitious ones, but they also are essential goals for our state and nation," Harker said, touching on the expanded financial assistance goals of the University's Commitment to Delawareans, a plan initiated in 2006 to boost educational opportunities at UD for qualified Delawareans.
Harker capped his remarks by announcing the creation of the University of Delaware Education Institute, an entity designed to expand the University's many outreach programs in Delaware K-12 public schools.
"This institute will bring together faculty and professionals at the University with educators throughout the state so that we can develop and apply the knowledge of research-based practices needed to create world-class schools," Harker said.
Besides coordinating and enhancing programs in various centers across the campus, the institute will provide Delaware educators at all levels with top quality professional development and graduate degree opportunities.
"In addition, the institute will support the development of an extensive research program on improving educator practices, from advances in classroom instruction to innovations in school leadership," he said.
A national search will be conducted shortly to find the best leader for the institute.
Harker concluded his comments with a brief anecdote about a recent trip to China during which he observed students crowding a lecture hall for an early Saturday morning class. "If we want to keep up globally," he said, "we need to gain a sense of urgency."
Dianastasis spoke next, addressing Delaware's quickly changing corporate landscape and its demands in terms of employee skills, training and expertise, particularly in the field of information technology.
"Delaware right now is 46th in the country in terms of fast company startup jobs," Dianastasis said, adding that it has also ranked, for the past several years, in the bottom 10 states for startup businesses. "Just that component alone," he said, "we have a daunting challenge in the infrastructure of the economy."
The First State Innovation program, Dianastasis said, is working to improve the entrepreneurial climate in Delaware.
"Programs like these only meet success in terms of getting funding and support from the community if the 'farm system' is there," he said, "and the 'farm system' is obviously the children in this state."
Dianastasis, in taking up the global competition theme, spoke, like Harker, of recent business trips to China, where he noted the country's strong family network and its unbending focus on academic prowess, which is reflected in its choice of cultural heroes like Microsoft founder Bill Gates.
"How do we solve this divergence?" Dianastasis asked. "We solve it through focusing on innovation and talent, time management and goal-setting, and leveraging technology."
Struthers, who also infused his remarks with a global theme, was next to the podium. In talking about his recent trip to China for the Beijing Olympics, he touched on China's educational standards, including its stiff requirements for high school graduates, and said that it was commonplace for him to encounter school-aged youngsters speaking three or more languages.
"The questions," he said, "are, here in Delaware, here in the United States, are our children ready to do what we need them to do to keep pace, and what do we do to prepare them to be ready?"
Struthers talked about what he sees as two top priorities--instilling financial literacy and closing the achievement gap--and said that they were equally critical in preparing successful and competitive future wage-earners.
Struthers said there are parallels between academic success, earning power and taxpayer contributions to an overall better society. "Over a lifetime, a high-school graduate earns an average of $600,000 more than a high-school dropout," he said, "and a college graduate earns an average of $1.5 million more than a high-school graduate. That's also approximately $150,000 more in taxes contributed and approximately $35,000-$40,000 that's saved by the prison system."
Willis concluded the panelist session by reminding listeners that Vision 2015 will work only if they take a personal stake in the success of Delaware's public education system.
"I deeply believe in the ability of all children to excel and thrive," Willis said, "and I believe it's possible if we adults make student success the central mobilizing goal of our public education system."
Willis emphasized the concept of "return of investment," and, like Struthers, talked about taxpayers' contributions to society. "Delaware's public education is the key to productivity and livability in Delaware, and it is all of our responsibility."
Article by Becca Hutchinson
Photos by Kathy Atkinson