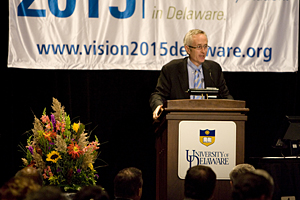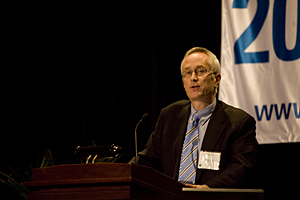 Making Vision 2015 Work conference
Click here for the complete text of Sir Michael Barber's speech.
Click here to view or download a video of this conference session.
5:02 p.m., Oct. 3, 2008----Internationally recognized public sector reform expert Sir Michael Barber told a UD gathering of government, business, education and community leaders that efforts to reform America's education system are at a critical juncture.
He added that there is an urgent need for action on all levels of government to ensure the country's future economic success and the fulfillment of the American dream for all of its citizens through educational reforms including No Child Left Behind.
Barber, who was chief adviser on delivery of educational performance to former British Prime Minister Tony Blair from 2001-05, made his remarks during a talk at the "Delaware Education for a Global Economy: Making Vision 2015 Work" conference, held Thursday, Oct. 2, at Clayton Hall.
During his talk, "What it Takes to Transform Public Education for a Global Economy," Barber said Americans will have to choose between the educational reforms of the last three decades of the 20th century, reforms which he said have "failed to live up to the towering ambitions of the civil rights movement," or a "results-focused, evidence-informed approach" that builds on some recent modest successes.
"The choice will have to be made in governor's mansions, state capitals, city halls and school boards across the country," Barber said. "Symbolically and substantively, the reauthorization of the No Child Left Behind Act, the most important piece of education legislation for many years and the most equitable legislation of the new century so far, will be the moment of truth."
The determining factors in such a decision, Barber said, will be accumulating the evidence of what does and does not work, and the courage of leaders and opinion-shapers within the education system and business community.
"The future success of the American economy will depend on significantly improving the U.S. school and college systems, with all the urgency that can be mustered," Barber said. "Indeed, because of the inevitable time-lag, even with the most rapid imaginable education reform, it will be some years before the impact is felt on economic growth."
Barber also said that he views the movement toward educational reform as an outgrowth of the ideals set in motion during the American civil rights movement in the 1960s, ideals which he said have not always been met.
"Those who led the civil rights movement, whether in Congress, churches or communities, must surely be devastated by the actual outcomes 40 or 50 years later," Barber said. "We know now that access to school is not enough. It is success in school that matters."
Barber said that the organizational and cultural barriers within the American educational systems are compounded by a seeming lack of concern among its citizens about the state of public education.
"It seems that the public is resigned to the state of their public schools, rather than satisfied or delighted with them," Barber said. "People are more significantly satisfied with their police forces and post offices."
Such attitudes, Barber noted, are balanced by what he views as grounds for hope in remaking America's system of public education to once again be among the best in world.
"To start with, wherever I go, I sense growing recognition among the county's leaders at local, state and national levels that public education needs fixing," Barber said. "Furthermore, many of these leaders are ready to look abroad as well at home for solutions."
Barber said that while promising signs prompted by No Child Left Behind indicate progress has been made, further refinements are needed to ensure its continued success. To accomplish this, he advocated a policy that includes quality assessment, intervention and incentives.
"Successful education reform is as much about means as it is about ends," Barber said. "Getting the policy right is difficult to be sure, but it is relatively easy compared to making it happen consistently and effectively so that the benefits are felt in every classroom."
Bringing about such improvements also requires the development of talented teachers and attracting the very best people to the teaching profession, Barber said.
"Increasing the supply of talent into teaching will require, in addition to major changes in policy, a change in the way that teachers are perceived," Barber said. "Teaching For America and similar programs are beginning to bring that about, but only beginning."
World standards in mathematics, science and English will in the future be set by "global benchmarks in a globalized economy," a factor that makes the case for national educational standards imperative, Barber said.
"From this perspective, the question of national standards is straightforward, they will arrive anyway eventually," Barber said. "The only questions are whether they do so by accident or design, haphazardly or systematically, sooner or later. As they used to say in the civil rights decade, 'If not now, when?'"
The event is the third in a series of UD conferences designed to engage education, government, community and business leaders in the challenges and opportunities for knowledge-based partnerships in areas of importance to our community.
The conference featured an interactive broadcast in Georgetown at the Carvel Research and Education Center.
Article by Jerry Rhodes
Photos by Kathy F. Atkinson