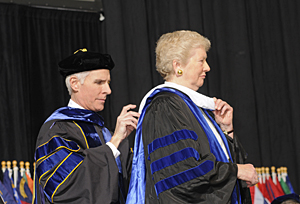 4:24 p.m., Jan. 10, 2009----Gil Sparks, vice chairman of the University of Delaware's Board of Trustees, presented an honorary degree to Mary Patterson McPherson at Winter Commencement on Jan. 10, 2009.
He read the following citation:
Distinguished alumna, you have had a long and illustrious career in higher education: more than 30 years at Bryn Mawr College, including 19 years as president; a decade with the Andrew W. Mellon Foundation as vice president for the Liberal Arts Colleges Program; and since July 2007, executive officer of the American Philosophical Society, the oldest learned society in the United States.
We are proud to say that you began that career right here at the University of Delaware. You earned your master's degree in philosophy at UD, and it was here that you taught your first college courses.
Champion of higher education for women, in 1963 you became assistant dean in the department of philosophy at Bryn Mawr. You went on to serve as associate dean, then dean of the Undergraduate College and deputy to the president.
In 1978 you assumed the presidency of Bryn Mawr College, and you served in that position until 1997, when you were honored with the title President Emerita. During your tenure, you guided Bryn Mawr College through an extraordinary period in its history. You encouraged vigorous and effective faculty governance and student self-governance, fostered cooperative relationships with other colleges and universities and secured Bryn Mawr's reputation as a center of academic excellence. You are widely credited with renewing and revitalizing Bryn Mawr College while increasing the number and diversity of its students.
Passionate Advocate for the Liberal Arts, your contributions to education extend well beyond Bryn Mawr. Through your work at the Andrew W. Mellon Foundation from 1997 to 2007 you helped to strengthen and sustain higher education in the humanities, arts and humanistic social sciences at the more than 125 liberal arts colleges that benefit from the foundation's philanthropy.
You were elected in 1983 to the American Philosophical Society, joining a membership that has included luminaries such as Thomas Jefferson, Charles Darwin, Marie Curie, Robert Frost and Margaret Mead.
You have actively supported the society in its goal of promoting knowledge in the sciences and humanities through scholarly research and publication. In 2007 you were named executive director of this august learned society.
In addition, you have served the community through your membership on a variety of boards, including those of several schools and colleges, the Josiah Macy Jr. Foundation, the Carnegie Foundation for the Advancement of Teaching, the Brookings Institute and the National Humanities Center.
"Education," wrote William Butler Yeats, "is not the filling of a bucket, but the lighting of a fire." Dr. McPherson, you have done more than light a flame, you have kindled many fires small and large, in individuals and institutions, and in so doing, you have made this world a brighter, warmer place.
Therefore, under the authority of the Board of Trustees of the University of Delaware, I have the pleasure and honor of conferring upon you, Mary Patterson McPherson, the degree of Doctor of Humane Letters and do declare you entitled to all the rights, honors, and privileges to that degree appertaining throughout the world.
In testimony thereof, I am pleased to present to you this diploma.
Photo by Duane Perry