Sept. 11, 2002--Quiet and soft-spoken Ismat Shah, a University of Delaware associate professor with joint appointments in materials science engineering and physics and astronomy, had no idea his life was about to change last Sept. 11.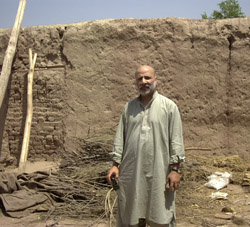 Ismat Shah, a University of Delaware associate professor with joint appointments in materials science engineering and physics and astronomy, makes frequent trips to Pakistan, where he works to improve conditions for Afghan people in a refugee camp near Peshawar.
As faculty adviser for the Muslim Students' Association, he was suddenly thrust into the limelight on campus and beyond as people questioned the Muslim religion in light of the terrorist attacks that day. Almost overnight there were opportunities to discuss his faith at every turn.
While unplanned and a little unnerving at first, Shah embraced the opportunities and has organized the community's interest and support of the Afghan people into a local relief organization that is building an elementary
school for Muslim girls in a refugee camp on the Pakistan-Afghanistan border.
"My life did change after 9/11," he says. "I now consider myself a representative of the Muslim faith. In public, I am very conscious of the fact that I am a Muslim and I need to be a certain way. I feel more responsibility now than before.
"My wife and I joke that after 9/11 I have given more talks about what it is like to be a Muslim than academic talks," he says. "But, I enjoy it very much and welcome every opportunity to educate people."
Most of his talks have been delivered in Christian churches, and his basic message is "before you criticize a person of another faith, you need to know what that faith stands for… . Don't start throwing stones until you know what you are throwing stones at," he says.
Independently, Shah has always done what he could to alleviate the immense poverty of his native Pakistan when he returns each summer to teach at a special summer college on "Physics for Contemporary Needs."
"In Pakistan, as in Afghanistan," he says, "the poverty is so great there is a need for everything. Anything we can do is just a drop in the bucket, but we try to do what we can. These are people who live off of the random acts of mercy others can provide."

In the past he has assisted numerous families in raising doweries for young women, and he has contributed money to educational efforts. Additionally, he has helped approximately 14 young Pakistanees enroll at UD to study in various departments in engineering, physics and math. Most of those students found their first U.S. home with Shah and his family in Pike Creek. Two young women lived with the family as exchange students for a year and still correspond with Shah, whom they call "Babba," the Urdu word for father.
Shah's efforts to start a school in the refugee camp began post 9/11 after he gave a talk in Wilmington. Members of Creative Grandparenting Inc. approached him to discuss ways to help the Afghan people.
"While they were hoping to go into Kabul to help, we also discussed the idea of doing something for people in the refugee camps in Pakistan," Shah says. "From a practical standpoint, it was nearly impossible to get into Kabul."
While that group eventually did end up financially supporting an existing school in Kabul, others wanted to do more, and soon the organization, Afghanistan/Delaware Communities Together (AFDECT), was formed.
Working with friends who were educated in the U.S. and who have returned to live in Pakistan, Shah toured the Jalozaii Camp near Peshawar and observed its terrible poverty firsthand. The camp is home to some 150,000 people, many of whom have lived there for the past 16 years since an earlier war forced them to flee Afghanistan. The children who have been born there have never known any other home. Ironically, neither the government of Afghanistan nor Pakistan officially recognizes the camp and it does not get any government aid. It is as if the four-square-mile camp of mud houses--traversed by an open drainage ditch that is the only source of water, sewer and recreation for the children--does not exist, Shah explained.
"As we were looking at the camp and all the misery that goes with it, we were able to determine that one of the biggest needs is education for young girls," Shah says.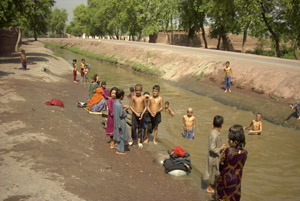 As faculty adviser for UD's Muslim Students' Association, Ismat Shah is leading a local relief effort that is building an elementary school for girls in the Jalozaii refugee camp in Pakistan.
The school will cater to girls in grades one through five. Approximately 300 girls will be able to attend when the school opens later this month, a fraction of those who need schooling.
The building itself will have brick floors, mud walls and a thatched roof, Shah said. The structure will have five rooms, and fans will help to cool the temperatures that can reach 117 degrees.
The girls who attend also will be provided with clothing and one meal a day. Other refugees will be hired to teach, prepare the meals and make the clothes.
Shah said he hopes to visit the camp in December and will definitely return next summer.
"There is so much to do," he says. "It is hard to even celebrate these small successes. And, actually, living conditions in Pakistan are not that much better. It is a very touching reality. We all need to do what we can."
Shah earned his bachelor of engineering degree in metallurgical engineering from the University of Karachi in Pakistan. He earned his doctorate in material science and engineering at the University of Illinois at Urbana-Champaign, where he also worked as a postdoctoral fellow.
In 1987, he went to work as a senior research scientist for the DuPont Co. During that time he also served as an adjunct professor at UD in physics and astronomy. In 1999, he became an associate professor and a member of the Center for Analytical Science and Technology. During summers, he works as the manager of nanostructured materials for Fraunhofer Inc. in the Delaware Technology Park.
His research specialities include nanostructured material synthesis, characterization and applications, energetic condensation for the deposition of polycrystalline silicon films on low-temperature substrates and the development of sputtering sources for unique applications. He also works in electron field emission, hard and protective coatings, organic-inorganic interfaces and dielectric materials. He has published numerous scholarly articles and advised several graduate students.
For more information on AFDECT, contact Shah at [ismat@udel.edu].
Article by Beth Thomas