Sept. 13, 2002--A record number of UD students donated blood during a campus drive Sept. 11 to commemorate the first anniversary of 9/11, according to Blood Bank of Delaware/Eastern Shore Coordinator Shay Robb.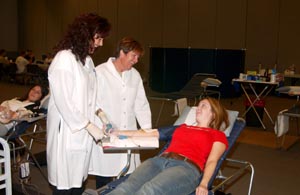 College of Arts and Science Junior Stephanie Lynn Watson (right) donated blood on Tuesday, Sept. 10, under the supervision of Blood Bank of Delaware/Eastern Shore phlebotomist Lori Patterson (left) and mobile operations supervisor Marianne Lazorick (center).
After a successful blood drive on Sept. 10, Robb said, 200 students were processed Sept. 11, and 147 units of blood were collected.
"That is the biggest number we've ever gotten at the University of Delaware in one day," Robb said. "We couldn't have been happier with the turnout. We're also happy so many people wanted to commemorate Sept. 11 by donating blood."
Robb also complimented the two-day blood drive's sponsors--Sigma Chi, Alpha Chi Omega and Chi Omega--for spreading the word and urging fellow students to participate.
The next blood drive is scheduled from noon-5 p.m., Wednesday and Thursday, Oct. 23-24, in the Trabant University Center and will be sponsored by the Resident Student Association.