Campus shares a time of remembrance
Faculty, staff, administrators and students, some wearing red, white and blue ribbons and bandanas in their hair, gathered late Friday afternoon for an Interfaith Time of Remembrance dedicated to Tuesday's devastating events.

An overflow crowd packed the auditorium of Pearson Hall and hundreds more watched the ceremony as it was broadcast via a webcast on UD's home page and on Channel 2 of the campus cable system on large-screen displays in the Scrounge a the Perkins Student Center and the Multipurpose Room of the Trabant University Center.

Laura Lee Wilson of the Wesley Foundation, one of the many campus religious leaders participating in the event, welcomed the attendees saying, "We have gathered as a campus family this afternoon. Each of us has come for different reasons. However, the commonality is that we are all part of the human family, and many of our brothers and sisters in our human family have been assaulted by an evil force… At this time, we are lifted by the grace offered by countless persons whose prayers are a witness to their individual faith tradition."
University President David P. Roselle also spoke of a campus and nation mourning crimes against humanity, which he called "terror for terror's sake." He read from an e-mail he received from his son, Arthur Roselle of Charlotte, N.C., which contained a message of hope for a unique and special country.
Others participating in the service included David Blackwell, Church of Christ, the Rev. Dr. Thea Joy Browne, Episcopal Campus Ministry, Patricia Davis, Warriors for Christ and the Gospel Choir, Blake Hardcastle, Baptist Student Ministry, the Rev. Dr. Bruce A. Heggen, Lutheran Student Association, Linda S. Oster, Hillel Student Center, Joe Ramirez, Delaware Zen Group, Dr. S. Ismat Shah, adviser of the Muslim Student Association, Rabbi Eliezer Sneiderman, Chabbad Center for Jewish Life, the Rev. Dr. Michael Szuppper, Catholic Campus Ministry, Graham Van Keuren, Presbyterian Campus Ministry, Grant S. Wolf, Baha'i Faith Community, and Kimberly S. Zitzner, Catholic Campus Ministry.
To see the service, go to [http://www.udel.edu/ums/udlive/ifservice.ram].
Article by Beth Thomas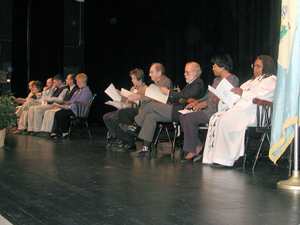 Photos by Kathy Flickinger