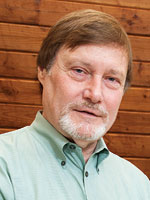 Just as surgeons have saved lives, Richard Wolbers has saved his "patients" — great works of art and architecture — and perhaps also the conservators who treat them.
Every morning when Wolbers, an associate professor of art conservation at UD, arrives in the light-filled studio where he works at Winterthur Museum in Winterthur, Del., a worried conservator somewhere in the world has emailed him for advice about a restoration treatment.
"Richard Wolbers is a genius," says Debra Hess Norris, chair of the University's Department of Art Conservation. "He's changed the field of conservation. A timeline for art conservation was done, and it was divided between 'the dark ages' — and when Richard Wolbers came on the scene."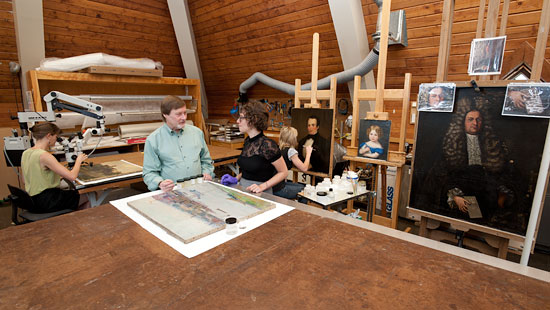 Wolbers' entrée into art conservation was through, he says, "a funny nexus of science and art."
After earning a bachelor's degree in biochemistry in 1971, he landed a job as a research associate at the Salk Institute in La Jolla, Calif. His office was right next door to Jonas Salk's.
In this seemingly unlikely environment, working in the midst of the discoverer of the polio vaccine and other pioneering medical researchers, including several future Nobel Laureates, Wolbers began to nurture his interest in art.
"The irony is that I discovered art through a staff of scientists," Wolbers says. "All of the scientists who worked at the institute were world-class and interested in art. They even had Helen Frankenthaler on the wall — Helen Frankenthaler!" he says softly, with awe in his voice for the abstract expressionist painter who influenced Jackson Pollack and generations of other artists.
Wolbers took a painting course at the nearby University of California at San Diego and enjoyed it so much, he decided to pursue a master of fine arts in painting.
"If you don't tell a person they can't do something, they don't know they can't," he says simply.
A few years later at a faculty party at the University of Colorado in Denver, where his first wife, a biochemist with interests in architecture, was interviewing for a job, a happy coincidence occurred for Wolbers, who had been finding the unorthodox combination of a bachelor's in chemistry and a master's in painting "a difficult resume to present." He met an art conservator and found out how he could combine science and art in a professional way and not have to choose between them.
Wolbers applied and was accepted into the University of Delaware's graduate program in art conservation, a joint effort with Winterthur Museum, the center of American decorative arts established by Henry Francis du Pont. For the program's internship requirement, Wolbers pursued paintings con-servation at Winterthur and has been working there ever since.
In one of the nation's largest museum analytical laboratories and conservation studios, located in Winterthur's Louise du Pont Crowninshield Research Building, Wolbers has devised new techniques for analyzing and diagnosing the multiple layers of grime, varnish and repaints on murals to furniture and developed tailored, less toxic materials for removing them.
Wolbers was the first person to take a sample of paint no larger than the period at the end of this sentence from an inconspicuous place on an artwork, such as an area covered by the frame, and then examine cross-sections of that tiny paint sample under the microscope using fluorochrome staining. First used in tissue research in medicine, this technique reveals to art conservators the layers that are present, from candle smoke to repaintings.
Thus informed, Wolbers has then devised treatments to remove a specific layer, such as applying the enzyme lipase to remove only the linseed oil.
Joyce Hill Stoner, director of UD's doctoral program in preservation studies, points out that Wolbers' work has been as critical to the welfare of conservators, as it has been to the treated works. She notes that conservators in the 1960s used "truly frightening and dangerous materials," such as methylene chlorides and toluene, with little ventilation.
"Wolbers has brought the field safe new cleaning materials, such as gels, enzymes, and pH-adjusted aqueous solutions, some based on food industry materials — so we could almost safely eat them!" she says.
Wolbers looked to other fields to solve the toxicity problem associated with the solvents of the past. Today, he says, half of his cleaning materials come from cosmetics.
When Wolbers shared his techniques at a conference for conservators in Valencia, Spain, last year, the participants were so grateful they composed a song about him and sang it on the bus ride back to the hotel.
Wolbers has a reputation for being both patient and generous with his time. In addition to instructing his UD students, he has taught over 150 workshops in Europe, South America and North America, and he has shared his innovations through the best-selling book Cleaning Painted Surfaces: Aqueous Methods (Archetype Publishers, 2000), which has been translated into German, Italian and French.
Currently, Wolbers is exploring how to conserve modern acrylics, as well as historic buildings such as the U.S. Capitol.
Having been consulted on a long list of world-famous works of art and architecture, how does Wolbers feel when he has, say, Van Gogh's The Potato Eaters in front of him, waiting for treatment?
"I treat it like a surgeon would," he says. "How's its health as a patient, and what can I do to buy it its longest life possible? It's been given to me to care for, and now I'll do the best I can."