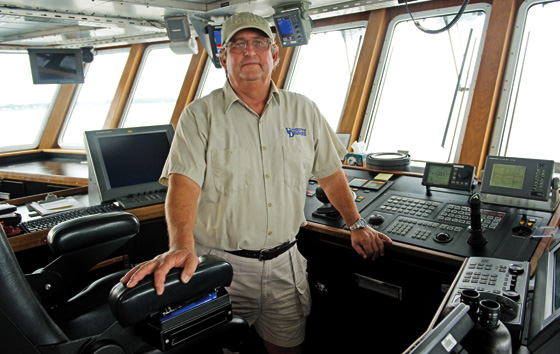 What's it like to be captain of UD's 146-foot flagship, R/V Hugh R. Sharp? Capt. Bill Byam fills us in on this state-of-the-art floating laboratory, described by American Ship Review as one of the most advanced coastal research vessels in North America. Learn more about the ship and track its location on this website.
How long have you been a captain?
I'm on my seventh issue; each issue is five years, so I've been a captain for 35+ years. I've been at Delaware for 11 ½ years, and I'm one of the newest in the crew, which gives you some idea of the continuity of our crew. Before UD, I worked in the oil industry, ran ferries for International Paper and operated a charter sailing business.
What's a typical workday run?
It's six hours on and six off. My watch starts at 5:30 a.m. I'm on from 5:30 in the morning to 11:30/noon; and back on again from 5:30 to 11:30 at night.
How many days is the R/V Sharp typically at sea?
The target is 180–200 days per year. The crew sails two-thirds of the schedule. The captain and chief engineer can sail over 140 days. We work seven days a week. Christmas and Thanksgiving are the only holidays we always try not to schedule any cruises.
What's most unique about this ship?
The design of the ship itself — it's modular, so we can change as technology does and incorporate new equipment to support the wide range of researchers we serve from institutions across the United States. Also, this vessel has diesel electric engines and Z-drives that enable you to turn 180° or go sideways. You can feather the drives down to very low RPM and rotate the Z-drives with no stops. It's also very acoustically quiet, which is a real benefit for studies of marine mammals and fish.
What kinds of science projects
is the ship currently supporting?
We do a lot of work with AUVs [autonomous underwater vehicles] with researchers at the University of Delaware, plus we have projects in Delaware Bay with several UD scientists. We have a scallop project with NOAA [National Oceanic and Atmospheric Administration] that requires doing surveys in the waters from Virginia to Canada, and we completed two years of marine mammal and bird observations for the state of New Jersey.
What kind of data do you log?
Once underway, we're continually pumping water, monitoring temperature, wind, surface water, fluorescence, with a time-stamp log of all of this. Once an hour, we transmit the data via the Rolling Deck to Repository, which is a gateway to the national data centers [National Geophysical Data Center and National Oceanographic Data Center]. At the end of the cruise, the scientist gets a CD full of all that data. We have two systems here that allow us to do satellite communication by phone, fax or Internet. We still keep a captain's log also. It's done on all ships and is a legal document.
How has ship technology affected
how science is done?
We're getting closer to the point where the crew can accomplish the work, and the scientist can stay back home and give instructions virtually.
How "green" is the ship?
The R/V Sharp is among the cleanest vessels in the fleet. The engines were designed to meet Tier 1 emissions standards of the EPA, and we burn a low-sulfur fuel. It also is much more energy-efficient than our old ship, the 120-foot Cape Henlopen. We use about 100 gallons less fuel per day, despite the fact that the Sharp is a much larger ship at 146 feet long.
What conservation practices does the ship have?
We have a reverse-osmosis system for making water. We make 800 – 900 gallons a day and have a 2,200-gallon capacity of potable water. Everybody can shower daily, but we ask people to be smart about water, such as not leaving the faucet running. We advocate a "Navy shower" where you wet, turn off, soap up, then turn the water back on to shower off. We have a washer and drier on board also. The gray water is discharged when the vessel is offshore.
What's the most exciting
thing that's happened at sea?
"Exciting" is a word we don't like to have in our vocabulary. We try to avoid it."Uneventful" is the key word — that's really good in our business.... There is the aspect of seeing sunrises and sunsets and seeing marine mammals offshore. We caught an 18-pound lobster once and a pretty good-sized sturgeon at the mouth of Delaware Bay. One of our moorings off Chesapeake, Virginia, had an octopus on it. We've also done projects in the Bahamas with divers on the bottom, and we've helped retrieve gliders that fly offshore up to 30 days and then surface for recovery.
Are there any ship superstitions?
None specific to this vessel, but in general, don't start a cruise on a Friday, and don't carry bananas.
What do you do during your 'down time' at sea?
I've always been a fan of sea stories —Ernest Hemingway, John Slocum…. Know the difference between a fairy tale and a sea story? A fairy tale begins with 'Once upon a time' and a sea story starts with 'I swear this is the truth….'"