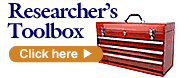 So you've made a major research discovery — cheers for you! — and you're ready to report it to the world. Before proceeding further, you need to make sure your findings are properly protected. Is there an invention or technique that should be patented, for example? Take a look at our Intellectual Property Guide, and if you have questions, contact Intellectual Property and Technology Transfer within the Office of Economic Innovation and Partnerships and talk over your research with them.
If your results already are adequately protected, contact the Research Communications Initiative in the Office of Communications and Marketing. The staff and their colleagues can work with you to develop a news article, pitch the story to major media likely to be interested in interviewing you, or help to arrange a press conference if appropriate.
The University's research discoveries are published on:
UDaily, the University's online news service, currently reaching more than 30,000 subscribers.
Research News, an online news service available on the University's Research Web site.
News releases to local, regional, national, and international science reporters via the American Association for the Advancement of Science's "EurekAlert" and other online news services.
The Messenger, UD's award-winning magazine with more than 80,000 subscribers.
As video and audio, for selected features, from our "Cool Clips" and podcasts.