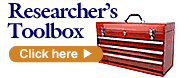 Peer-Reviewed Journals
High-quality articles written for non-scientists can attract major media coverage of your UD research. If an article you've written has been accepted for publication in a major journal, please contact the Research Communications Initiative in the Office of Communications and Marketing. The staff prepare and release news articles about ground-breaking UD research in accordance with each respective journal's publishing and embargo policies.
By notifying the staff early on that your article has been accepted, you leave ample time for the staff to interview and photograph you, draft a news article, and complete the review process so that our research news story can be released from UD when your journal article is published.
Also, you may report your publications and presentations to the "For the Record" column, which is issued periodically on the UDaily news service. Submit information by using this form, or send it in campus mail to UDaily Editor, Office of Communications and Marketing, Academy Building, 105 E. Main St.