Stimulus Working Group
On February 17, 2009, the American Recovery and Reinvestment Act (ARRA) was signed into law. This Web page provides public information on the ARRA funding awarded, to date, to the University of Delaware, including sortable lists by agency sponsor and selected project highlights.
This Web page also serves as an ongoing resource for UD researchers seeking information on ARRA funding announcements, opportunities, and grant requirements from federal and state agencies, as well as the
Recovery.gov
general list. Additional announcements will be posted as more information becomes available.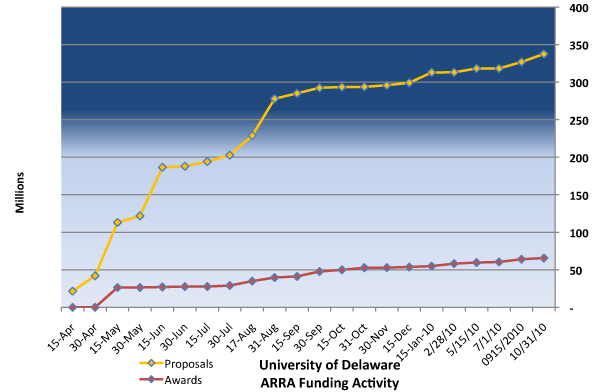 Below is a chart summarizing the amount of ARRA funding the University has received by sponsor. Select a heading to sort this list. For a detailed list of proposals by agency select a sponsor's name.
| Sponsor | Total |
| --- | --- |
| Grand Total | $65,602,809 |
| Corporation for National and Community Service | $155,250 |
| Department of Health and Human Services | $1,967,790 |
| National Institutes of Health | $17,266,873 |
| National Institute of Standards & Technology | $796,254 |
| National Science Foundation | $18,296,121 |
| U.S. Department of Agriculture | $678,999 |
| U.S. Department of Commerce | $371,419 |
| U.S. Department of Defense | $342,376 |
| U.S. Department of Education | $997,115 |
| U.S. Department of Energy | $23,841,209 |
| U.S. Department of Labor | $889,404 |

Sub Award Excel Reporting Template Download
(due by 5th calendar day after quarter's end)
If you would like a comprehensive listing of ARRA related resources