Preparing students to interact with clients in the workplace is the goal of the nutrition and dietetics internship. Preparing students for the internship is the job of Ann Rucinski and Charlene Hamilton—and their virtual client, Jill.
Recognizing that students sometimes struggle when they make the transition from classroom practice to the workplace, Rucinski and Hamilton, Nutrition and Dietetics, decided to incorporate a "live" client into the school's internship. They worked with the staff of the PRESENT to implement their plan using MyCourses —UD's online course management system.
"In an effort to better prepare students for dietetics practice, we decided to combine problem-based learning with technology to provide simulations of experiences students can expect to encounter in practice. The first client we developed was Jill," Rucinski explained.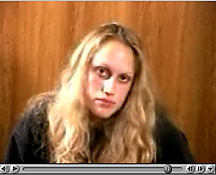 The project required substantial preparation, including developing the situation and pinpointing all decisions a student can make. Jill—a pregnant, public health clinic client—responds to the decisions that a student makes. Unlike working with traditional case studies, the student's decisions impact Jill's response.
Justin Schakelman, a staff member in PRESENT, used a digital video camera, boom microphone, special lighting, and a mixing board to capture Jill's responses on video. These video clips were edited with Apple's Final Cut Pro—a high-end video editing software—then compressed into smaller (500K) Internet-ready Apple QuickTime files that were embedded into interview files. QuickTime videos, which require a plug-in, are viewable in most browsers. One of Jill's QuickTime movie responses is available as an example.
After analyzing Jill's situation in the "Pre-Interview Investigation" area, a student begins interviewing Jill.
"We feel that we are able to help students enhance their critical thinking skills more effectively than with the traditional case studies," Rucinski said. Students can interact with the virtual client until they attain the ideal outcome.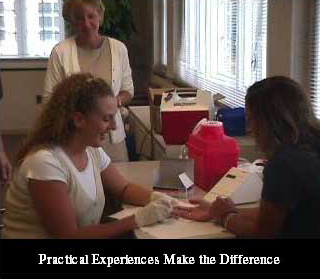 Using MyCourses to deliver the course provides students with a variety of tools that help ensure a successful internship. "Dr. Hamilton and I have found to be an excellent way to train our dietetics interns, who are located throughout the state of Delaware," Rucinski said.
In addition to the "live client" and related materials, the dietetics internship MyCourses course offers a "Tour-in-Pictures" of some situations students can expect to encounter during the internship, outlines the semester using a calendar and table of contents as well as practice tests and tips.
Discussion forums allow students to collaborate outside the classroom and workplace. Students can also create and post required journal entries within MyCourses. A "Live Chat" feature provides another avenue for students to discuss issues and a way for Hamilton and Rucinski to include guest speakers.
Rucinski and Hamilton will use the MyCourses course beginning summer 2001. They are planning five additional "live" problems in all areas of dietetics practice (e.g., community, clinical, and food service management).