Career Opportunities in
Medical Laboratory Science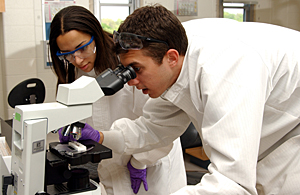 Our Medical Laboratory Science graduates are working for dozens of employers, including hospitals, medical institutes, pharmaceutical companies, blood banks, and manufacturers of diagnostic equipment. Most are in the mid-Atlantic region, but others are as far away as Texas, Colorado, and Hawaii.
Areas of employment include andrology/embryology, biosafety, bone marrow transplantation, cancer research, cellular immunology, clinical chemistry, customer support, fertility clinic, flow cytometry, forensic science, general clinical laboratory, hematology, HLA tissue typing, human genetics, immunohematology, immunology, infectious diseases, microbiology, molecular diagnostics, point of care, research & development, sales, technical consulting, and virology.
Other professional careers include anesthesiologist, attorney, business analyst, chief financial officer, clinical information analyst, dentist, director of manufacturing, education, embryologist, law enforcement, marketing, nurse, optometrist, orthopedic surgeon, pharmacist, physician, physician assistant, senior sales representative, and system analyst.