Principals |  Parents |  Students |  Calendar  |  Maps/Updates  |  Contact Us  | Q & A  |   Resident Assistants  |  HOME
Delaware Governor's School for Excellence
July 9-14, 2017
FIELD TRIP INFORMATION
Updates for the 2017 Governor's School will be available in February.
Wednesday, July 13 is Governor's School Field Trip day! 
We try to accommodate each student's first choice for field trip assignments, however, this is not always possible. Please note, due to transportation and meal considerations, changing field trips is not permitted without the approval of a Resident Assistant.
Click here to see the list of 2016 field trip assignments, listed by each student's initials and school name. Please note the following field trip recommendations:
Marine Studies—Bathing suits are recommended as well as sneakers that you don't mind getting dirty in the marsh. Sunscreen, hats, and water bottles are also recommended.

Sport Science—Bathing suits are required if you wish to participate in the Bod Pod experiment that measures an individual's body fat.

Engineering—no special considerations
If you are unsure of your field trip assignment or find that you are not listed, please contact Jason Thompson at jasont@udel.edu. We try to accommodate all field trip requests but, due to numbers, not all students may have received their first choice. Under certain circumstances we are able to change a student's trip, however, this must be requested through the Governor's School Resident Assistants on Monday or Tuesday of the program.  Thank you,

Jason Thompson
Program Coordinator
Principals |  Parents |  Students |  Calendar  |  Maps/Updates  |  Contact Us  | Q & A  |   Resident Assistants  |  HOME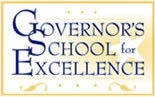 Governor's School for Exellence | University of Delaware | Newark, DE 19716 • USA