Principals |  Parents |  Students |  Calendar  |  Maps/Updates  |  Contact Us  | Q & A  |   Resident Assistants  |  HOME
Delaware Governor's School for Excellence
July 9-14, 2017
Governor's School Schedules

Student Schedules
Opening & Closing Days

Opening Day: Sunday, July 9, 2017
Governor's School Registration, 6:30 p.m.-7:15 p.m.—George Read North Hall (subject to change)
Please register in the lounge of George Read North Hall (location may change). Students will check in, receive room assignments, key, meal cards and materials. Resident Assistants will be in the area to guide you.  Luggage/bags are to be left in the assigned dorm room.
Dinner will not be served on Sunday evening so please eat dinner before you arrive.
After unpacking, putting on Governor's School t-shirt and saying goodbye to parents, students will return to the George Read North lobby at 7:15 p.m. 
Resident Assistants will escort groups of students to Clayton Hall 101A to begin the opening activities.
Closing Day, Friday, July 14, 2017
Closing Ceremony, 6:30-8:30 p.m.— Loudis Auditorium, Amy E. DuPont Music Building
University of Delaware 
110 Orchard Road, Newark, DE 
Parking: In addition to the parking garage at the Center for the Arts, metered parking is available on Kent Way and Amstel Ave. If you wish to park in one of the few spots on those streets, please bring quarters.

Check-out, 8:30-9:00 p.m.—Christiana Commons (subject to change)
All students and parents will go to the Christiana Commons Building to collect luggage (subject to change). All students must return room keys and meal cards to avoid charges for lost items.
Principals |  Parents |  Students |  Calendar  |  Maps/Updates  |  Contact Us  | Q & A  |   Resident Assistants  |  HOME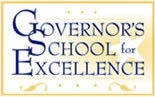 Governor's School for Exellence | University of Delaware | Newark, DE 19716 • USA
© 2017 University of Delaware • Comments • Legal Notices • Accessibility Notice